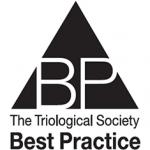 TRIO Best Practice articles are brief, structured reviews designed to provide the busy clinician with a handy outline and reference for day-to-day clinical decision making. The ENTtoday summaries below include the Background and Best Practice sections of the original article. To view the complete Laryngoscope articles free of charge, visit Laryngoscope.
Background
Cervical nodal metastases in head and neck squamous cell carcinoma (HNSCC) often follow a predictable pattern of spread. Appropriate management of neck disease is crucial for optimizing patient outcomes and survival. Selective neck dissection (SND) for the clinically negative neck (N0) has emerged as a technique to optimize locoregional control while minimizing morbidity such as injury to the spinal accessory nerve (SAN). Even when the SAN is spared, traction or pressure injury to the nerve can result in significant impairments in shoulder function for the patient. The anatomic boundaries of cervical level IIB include the skull base superiorly, the sternocleidomastoid muscle posterolaterally, and the SAN inferomedially. Dissection of nodal-bearing tissue from level IIB poses a risk of SAN injury and may not always be necessary based on the primary site and pattern of lymph node metastasis. Given the importance of oncologic control as well as quality-of-life considerations, when is it appropriate to include level IIB in elective or therapeutic neck dissections for HNSCC?
Best Practice
In elective neck dissections for most HNSCC primary sites, level IIB nodes can be left intact, thus minimizing risk of damage to the SAN. For tumors of the parotid or skin of the lateral face and scalp, level IIB dissection should be performed routinely. In therapeutic neck dissections, there is a strong association between the presence of level IIA metastases and IIB involvement; therefore, several studies advocate for sparing IIB if IIA nodes are clinically negative. However, it is also worth considering that in some patients level IIB dissection can provide improved exposure for both elective and therapeutic neck dissections. This analysis is limited by variability in the strict definition of level IIB. Some investigators use the revised classification system with the inferior border of the hyoid bone rather than the carotid bifurcation delineating the boundary between level IIB and level III. Furthermore, current evidence only includes short-term follow-up for recurrence. Further research is needed to confirm that preserving level IIB has no impact on long-term oncologic outcomes (Laryngoscope. 2018;128:1739–1740).