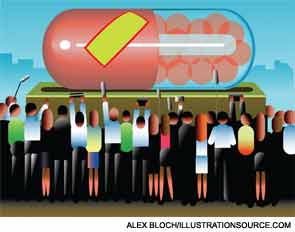 VANCOUVER—Shortly before she headed out to the 2013 AAO-HNS Annual Meeting, held here Sept. 29–Oct. 2, Karen Zur, MD, director of the pediatric voice program at The Children's Hospital of Philadelphia, was approached by a colleague with a question: What did Dr. Zur think about using a Tutoplast allograft in a pediatric tympanoplasty procedure?
Tutoplast is a human-tissue collagen that undergoes a process of virally inactivating, preserving and sterilizing human tissue, and it's been used for 30 years in millions of surgical procedures for implants. In ears, it can mimic the tympanic membrane and reduce morbidity by allowing for transcanal procedures. The colleague had heard about it being used for tympanoplasty at another institution.
But, it's not approved for that by the U.S. Food and Drug Administration (FDA).
Dr. Zur, who happened to be scheduled to moderate a mini-seminar at the meeting on off-label use of drugs and technology, relayed the anecdote at the session. She noted that the colleague did end up using Tutoplast and was pleased with the results.
Whether and when to use devices and drugs in a way that's not approved by the FDA is an issue otolaryngologists face, and the experts assembled at Dr. Zur's mini-seminar agreed unanimously that there are areas in which there is no choice but to embrace off-label use, as long as patients and families are made aware of the practice.
Cost-Saving Alternatives
The FDA approval process, also covered in the session, is often just too drawn out for responsible doctors and surgeons. "The FDA regulates the promotion of the drugs, but they do not regulate the practice of medicine," Dr. Zur said. "So, contrary to some popular belief, it is legal in the United States and other countries to use drugs that are off-label." However, manufacturers are prohibited from marketing their products for off-label uses, even if those uses are widely accepted.
Physicians might find themselves in a difficult situation when a cheaper alternative is found to work just as well on a disorder as the more expensive product that was developed specifically for that purpose, panelists said. There is a wide variation of costs for certain drugs and devices. "It creates a little bit of a dilemma for the surgeon," said Craig Derkay, MD, a head and neck surgeon at Children's Hospital of The King's Daughters in Norfolk, Virginia. "I'd like to really support the research and development effort of companies that are willing to develop products for us, but I have to be a steward of health care dollars."
Steven Handler, MD, associate director of otolaryngology at The Children's Hospital of Philadelphia, said it's "incumbent" on doctors to use the equally effective, less expensive alternative. In pediatric respiratory papilloma disease (RPP), Dr. Derkay's area of expertise, there's little choice in the matter. "There's nothing in terms of our armamentarium that is currently FDA approved," Dr. Derkay said.
The quadrivalent human papilloma virus (HPV) vaccine, Gardasil, is a testament to the frustrating FDA system. Research has determined that if 80 percent of women or 70 percent of both women and men were vaccinated against strains of HPV that cause RPP, there would be enough herd immunity to basically wipe out the disease. Cost evaluations have found that administering HPV vaccines would mean 13 cents spent for every dollar of treatment cost saved, Dr. Derkay said. "There are few things that are that big of a bargain in medicine," he added.
But Merck, the Gardasil manufacturer, is not allowed to promote the vaccine for that purpose, which wasn't part of its initial approval. Pediatric otolaryngologists and head and neck surgeons are "really limited in our ability to speak to our pediatric colleagues" about the RPP benefits, said Dr. Derkay. "The system kind of works against us."
Only approximately 54 percent of eligible girls and 10 percent of eligible boys are receiving the vaccine, he said. It will take 15 years to gather the evidence the FDA needs to approve the vaccine for RPP, he said.
Robotic Surgery
Bert O'Malley, MD, Gabriel Tucker Professor of otorhinolaryngology at the University of Pennsylvania in Philadelphia, reviewed the long process of seeking approval from the FDA for use of the da Vinci robotic system for minimally invasive head and neck surgery.
Beginning clinical studies for the safety and efficacy data to give to the FDA first required obtaining independent review board approval. The process ended up not requiring the further step of getting an "investigational device exemption," he said. He and colleagues made the case that there was not "significant risk"—because it is manual, image-guided surgery, they said, the operation stops once the surgeon's hands leave the console. The independent review board gave approval, and data was collected to show that the system was at least as equally effective as standard techniques.
At first, though, the FDA reviewers were fearful that there were not enough data to justify safety, even though the same system had been approved for use by cardiac surgeons. "The otolaryngologists on the review panel were not head and neck surgeons who do minimally invasive or transoral or highly complex head and neck surgery, so they were fearful of this device and the nature of the surgery, said Dr. O'Malley. "So it shows you a whole other factor that's involved with getting FDA approval."
The panel ended up asking for "teachability," or proof that others could learn to use the system as safely and effectively as the applicants. It was the first time such a concept had been attached to an FDA approval, Dr. O'Malley said. The panel eventually found that it takes about 20 cases for an experienced head and neck surgeon to get to the same level as the applicants, and the FDA gave its approval in 2009.
"Medicine doesn't move forward without innovation. Innovation frequently involves the off-label use of drugs or devices."

—Michael Rutter, MD
Building Relationships with Patients
Michael Rutter, MD, a pediatric otolaryngologist and director of clinical research at Cincinnati Children's Hospital Medical Center, said that not only can off-label uses mean good medicine, but they are also necessary to advance the field. "Medicine doesn't move forward without innovation," he said. "Innovation frequently involves the off-label use of drugs or devices."
Among other off-label uses, Dr. Rutter introduced the use of angioplasty balloon dilators for dilation in pediatric tracheoplasty cases in 2001. They've used the technique 1,900 times, he said. "A lot of the surgical innovation that we've developed in Cincinnati arose out of the personal relationship we have between [a doctor] and a family," he said. "Most families are willing to let you try if you have a relationship with them and they trust you."
Not only is communication with the family important, but family dissent is essentially the only thing preventing surgeons from using devices in a different way than intended, modifying devices or using drugs in an off-label way. "There are very few checks and balances between you and your relationship with the patient and the family," he said.