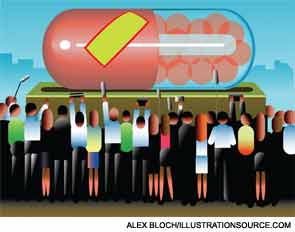 VANCOUVER—Shortly before she headed out to the 2013 AAO-HNS Annual Meeting, held here Sept. 29–Oct. 2, Karen Zur, MD, director of the pediatric voice program at The Children's Hospital of Philadelphia, was approached by a colleague with a question: What did Dr. Zur think about using a Tutoplast allograft in a pediatric tympanoplasty procedure?
Tutoplast is a human-tissue collagen that undergoes a process of virally inactivating, preserving and sterilizing human tissue, and it's been used for 30 years in millions of surgical procedures for implants. In ears, it can mimic the tympanic membrane and reduce morbidity by allowing for transcanal procedures. The colleague had heard about it being used for tympanoplasty at another institution.
But, it's not approved for that by the U.S. Food and Drug Administration (FDA).
Dr. Zur, who happened to be scheduled to moderate a mini-seminar at the meeting on off-label use of drugs and technology, relayed the anecdote at the session. She noted that the colleague did end up using Tutoplast and was pleased with the results.
Whether and when to use devices and drugs in a way that's not approved by the FDA is an issue otolaryngologists face, and the experts assembled at Dr. Zur's mini-seminar agreed unanimously that there are areas in which there is no choice but to embrace off-label use, as long as patients and families are made aware of the practice.
Cost-Saving Alternatives
The FDA approval process, also covered in the session, is often just too drawn out for responsible doctors and surgeons. "The FDA regulates the promotion of the drugs, but they do not regulate the practice of medicine," Dr. Zur said. "So, contrary to some popular belief, it is legal in the United States and other countries to use drugs that are off-label." However, manufacturers are prohibited from marketing their products for off-label uses, even if those uses are widely accepted.
Physicians might find themselves in a difficult situation when a cheaper alternative is found to work just as well on a disorder as the more expensive product that was developed specifically for that purpose, panelists said. There is a wide variation of costs for certain drugs and devices. "It creates a little bit of a dilemma for the surgeon," said Craig Derkay, MD, a head and neck surgeon at Children's Hospital of The King's Daughters in Norfolk, Virginia. "I'd like to really support the research and development effort of companies that are willing to develop products for us, but I have to be a steward of health care dollars."