Based on the literature search, Dr. Merkus said, he believes that there is evidence to support performing a CI in some patients with maximum SD scores of between 50 percent and 70 percent, a speech score that most cochlear implant teams consider too high for CI. In such cases, he explained, the extent of the patient's disease as shown on CT scan needs to be taken into account. If severe bone remodeling is already present (Type 2C or 3), further progression of hearing loss may be anticipated, and delaying cochlear implantation could diminish the chances of a full electrode insertion.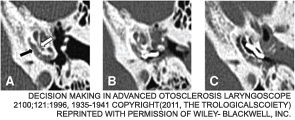 Axial CT scan of the petrous bone in a patient with retrofenestral otosclerotic lesions.
A: Preoperative CT scan: grade 2C retrofenestral otosclerosis (according to Rotteveel classification): double ring (black arrow) and basal turn narrowing (white arrow).
B: Perioperative CT scan of the same patient with the electrode entering a false lumen due to the thickened round window, sclerotic scala tympani, and otospogeotic double ring surrounding the cochlea.
C: Postoperative CT image with a complete electrode insertion in the scala vestibuli.
"We believe that extensive cochlear involvement, as shown by the CT scan, brings with it the risk for impending cochlear obliteration," Dr. Merkus said. "This may constitute an indication for CI because speech perception and the chances for successful cochlear implantation will diminish further with time."
Overall, the literature search showed that CI yielded improved hearing in 100 percent of patients, with SD scores ranging from 45 to 98 percent, depending on the hearing test used. With stapedectomy, in contrast, results were poorer: Hearing improved in 46 to 100 percent of patients, with SD scores of between 38 and 75 percent.
In another nod to CI, two of the studies included in the literature review that directly compared stapedectomy and CI described significantly better performance in patients who underwent implantation. "In general, improvements in hearing and speech perception seemed to be better after CI than after stapedotomy," Dr. Merkus said.
The risk for complications when CI surgery is done in advanced cases is also supported by the literature, Dr. Merkus added. "Many studies show that fenestral and basal turn ossification, the necessity for extra drilling, partial electrode insertion and post-operative facial nerve stimulation do occur in severe disease," he said.
Reimbursement a Concern
Jennifer Smullen, MD, an instructor of at Harvard Medical School who practices at the Massachusetts Eye and Ear Infirmary in Boston, said reimbursement is a problem for CIs done in patients with SD scores of 50 percent to 70 percent. "Medicare won't pay for anything above 40 percent, and private payers usually follow suit" with that restriction, she told ENT Today. "That's a huge issue: CI is an extremely expensive surgery, not just in terms of up-front costs" but also post-surgery costs, such as those associated with programming the processor and other services provided by audiologists, she noted.