Seven-year-old Michael is scheduled to have a hemangioma removed from his face at the Arkansas Children's Hospital (ACH) Ambulatory Surgery Center in Little Rock. The morning of surgery, he and his mother meet with child life specialists Cassandra C. James, MS, CCLS, and Camille Dante, MS, CCLS, who show him pictures of the operating room. They let him play with an anesthesia mask and a pulse oximeter, and talk about what to expect when he goes to sleep.
The nurse enters the room to start Michael's IV. He begins to clutch his favorite action hero doll. Wide-eyed, he looks at the nurse and asks, "Are you going to put that needle into my arm now?" Sensing his anxiety, James reaches into her "distraction bag" and pulls out an I Spy book. "Want to read with me?" she asks. Michael nods and his mother picks him up to hold him in what's called a bear hug comfort position. James settles beside him with the book, and Michael calms down. The nurse is able to place the intravenous line without using any additional sedation.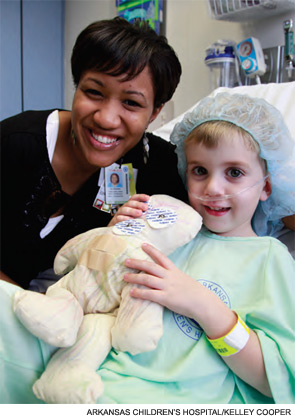 Child life specialist Cassandra James with patient Zachary Needham
"Having surgery is really an unusual time for a person. And it's even scarier for a child," said Craig W. Senders, MD, FACS, professor and director of the Cleft and Craniofacial Program at University of California Davis Health System. He has observed firsthand the benefits of having child life specialists in the OR environment. "As physicians, we take for granted the bright lights and noises in that environment. It's a different experience for young children." Having child life specialists as part of the multidisciplinary team makes the child's experience go much more smoothly, he said.
Most U.S. hospitals specializing in pediatric care have child life programs in place. Pediatric otolaryngologists who have worked with these professionals note that they can normalize the hospital experience by educating about new diagnoses, teaching pain management and coping skills, preparing children for surgery and working with parents and siblings. Pediatric otolaryngologists point out that their colleagues in community or private practice settings could also boost their care of children by including them in the pediatric care team.
Quality of Care
There are currently over 400 programs documented with the Child Life Council, the professional membership body for the specialty, said Child Life Council past president Ellen Good, MSEd, CCLS, manager of child life at Yale-New Haven Children's Hospital. Worldwide, there are over 4,000 Child Life Council members. According to the Council, research in the first half of the 20th century showed that long hospitalizations for chronic illness caused children distress, sensory deprivation and loneliness, resulting in a failure to thrive. The Child Life profession began in the 1920s in North America to help mitigate the effects of hospitalization.