Since 1998, the Child Life Council has offered a Child Life Professional Certification Examination. Candidates acquire a bachelor's or master's degree with a concentration in human growth and development, psychology and counseling, and complete a 480-hour clinical internship program. After certification, child life specialists continue to acquire professional development hours during a 5-year certification review cycle.
Studies have found that child life specialists contribute to improvements in pain management (J Pain. 2008; 9(4): 320-329), reduced length of stay and increased parental satisfaction (Child Health Care. 1988;16:244-254). In its most recent position paper on child life services (Pediatrics. 2006;118(4):1757-63), the American Academy of Pediatrics (AAP) highlighted the contributions of the profession in meeting the Joint Commission's standards to deliver developmentally appropriate care.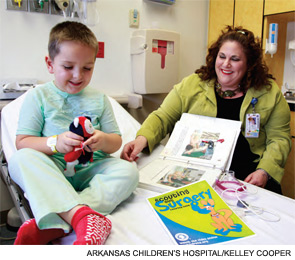 Child life specialist Camille Dante with patient Brayton Flournoy
Working with Specialists
Eric D. Baum, MD, an attending otolaryngologist for Connecticut Pediatric Otolaryngology, attests to both the usefulness and variability of programs. While a resident and fellow at the Children's Hospital of Philadelphia, he rarely had contact with the child life specialists, who visited and worked with children admitted to the medical floors. "We got only positive feedback from parents about their work, but it was not a collaborative thing," said Dr. Baum, who is also clinical instructor of surgery and director of the pediatric otolaryngology curriculum at Yale University School of Medicine in New Haven.
When Dr. Baum moved to Yale, one of the first things he noticed was that child life specialists were "right in the mix: they're there in the morning when I come in to see my pre-op patients [at the Pediatric Surgery Center] and they're circulating through the recovery room afterwards. So, we just keep bumping into each other and that's when things get good," he said.
It's not unusual for him to meet Alicia Sevilla, MS, CCLS, in the hallway and for them to strategize on the spot about addressing a child's or parent's anxiety or refining preoperative instructions. Child life specialists, he said, "have a good understanding of family dynamics and are good at giving me a heads-up if there is an issue."
Lisa M. Buckmiller, MD, is associate professor of pediatric otolaryngology at the University of Arkansas for Medical Sciences/Arkansas Children's Hospital, where child life specialists are integral members of the multidisciplinary team approach. "I find child life specialists to be a valuable resource for kids," she said. "They round out our specialty and you can't run a children's hospital without them."