WASHINGTON, DC-At its annual meeting, the American Academy of Otolaryngology-Head and Neck Surgery released its long-awaited multispecialty practice guidelines for treatment of adult rhinosinusitis.
The ailment affects one in seven adults, has a profound effect on the quality of life, and costs the health care system almost $6 billion every year, said Richard M. Rosenfeld, MD, of the Department of Otolaryngology at State University of New York Downstate Medical Center in Brooklyn, who was chairman of the guidelines panel and lead author of the guidelines. The panel was composed of members of a number of medical specialties: allergy, emergency medicine, family medicine, health insurance, immunology, infectious disease, internal medicine, medical informatics, nursing, otolaryngology, head and neck surgery, and radiology.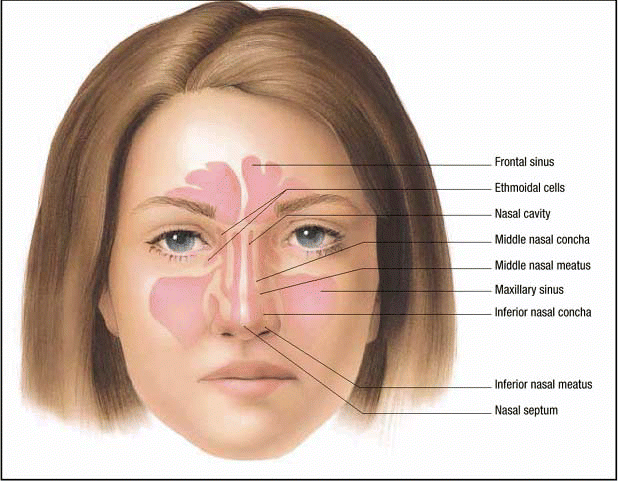 click for large version
Figure. Anatomical Chart Co.: Rhinosinusitis affects one in seven adults. Considerable practice variations exist for its treatment; the new guidelines include evidence-based statements about which are better and more effective than others.
Beyond its financial impact, sinusitis is responsible for 20% of all antibiotics prescribed in the United States, as well as half a million surgical procedures each year.