Patients with head and neck cancer treated with surgery and/or radiation often experience pain, shoulder dysfunction, and xerostomia. Standard treatments for these adverse effects have been disappointing, but preliminary results of a randomized trial suggest that head and neck cancer patients with these treatment-related symptoms may derive benefit from acupuncture.
Although further study is needed, this trial suggests a potential role for acupuncture in addressing post-dissection pain and dysfunction as well as xerostomia, said David G. Pfister, MD, Chief of the Head and Neck Medical Oncology Service at Memorial Sloan-Kettering Cancer Center in New York. Dr. Pfister presented this study at the 2008 Annual Meeting of the American Society of Clinical Oncology in June. The study received no industry funding.
This study adds to a large body of evidence for acupuncture in the management of pain in general and to other studies showing that acupuncture is superior to sham acupuncture for management of neck and shoulder pain in other settings. The usual approaches to post-dissection neck and shoulder pain and dysfunction in cancer patients are often disappointing or incomplete in their effectiveness. Acupuncture has a favorable side-effect profile, and you can generally tell whether a patient is responding after four treatments. The available data support offering acupuncture as an option to patients who experience post head and neck dissection pain, Dr. Pfister stated.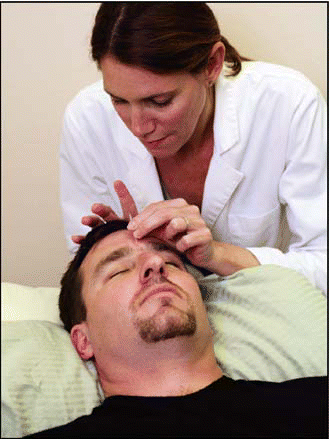 click for large version
Figure. Patients in the study received needles in the hairline, hand, leg, ear, and other locations according to their symptoms.
Dr. Pfister noted that improvement in neck and shoulder pain and dysfunction was the primary endpoint of the randomized trial; xerostomia was a secondary endpoint. The results regarding improvement in xerostomia should, therefore, be interpreted more cautiously. The data for acupuncture and xerostomia are less evolved in this and other studies. However, the results showing improvement in xerostomia are of great interest. We plan to evaluate acupuncture for dry mouth in a randomized trial, he stated.
Ongoing and future research will attempt to characterize better how acupuncture exerts its beneficial effects for these symptoms and to determine which patients are most likely to derive benefit. Corollary studies, including nerve conduction studies, electromyelograms, and functional magnetic resonance imaging studies should be helpful in this regard.
Uses of Acupuncture
Acupuncture is used as an adjunct to anesthesia, to control postoperative pain, and to speed recovery from side effects due to various treatments, including nausea and vomiting associated with chemotherapy. Use of acupuncture can reduce reliance on medications and their attendant side effects.