While chemoradiation is becoming more common for managing head and neck cancers, some patients should have surgery as an initial treatment
TORONTO—There has been a paradigm shift in the management of oropharyngeal and laryngopharyngeal cancer, and top surgeons now opt more frequently for chemoradiation treatment than surgery. At the same time, otolaryngologists–head and neck surgeons need to do their best to determine which patients are not good chemoradiation candidates and should undergo surgery as a first modality.
These were among the key messages presented by a panel of five experts who discussed head and neck cancers at the recent meeting of the Eastern Section of the Triological Society here. The panel, moderated by Ashok Shaha, MD, Professor of Surgery at Memorial Sloan-Kettering Cancer Center in New York City, covered treatment options in response to a series of questions and sample cases presented.
Radiation Therapy: Good for Many Patients
Radiation therapy came out as top choice for the management of early vocal cord cancer, though panelists provided different reasons. It isn't for all levels of cancer, and it doesn't discount the value of other specific treatments.
Jeremy L. Freeman, MD, Professor of Otolaryngology at the University of Toronto in Ontario, explained that radiation is the treatment of choice at his center, in part, because there isn't enough manpower for doing laser ablation. "We'd need one person dedicated to do this job two or three times a week, and we just don't have this resource. We do have a radiation resource and that's what we do." He added that laser ablation is cost-effective, and that radiation can be used later on if there is a recurrence.
Gady Har-El, MD, Professor of Otolaryngology and Neurosurgery at SUNY Health Science Center in Brooklyn, NY, said it depends on the whether the cancer is T1 or T2 since they need different levels of aggression in treatment.
And, while radiation is often effective, it doesn't work for everyone, a point made by Jonas Johnson, MD, Chair of Otolaryngology at the University of Pittsburgh School of Medicine (Pa.).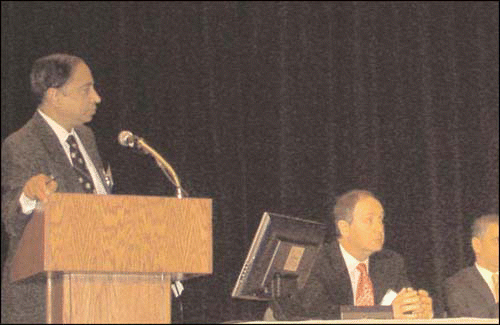 click for large version
Figure. Drs. Ashok Shaha, Jeremy Freeman, Gady Har-El, Bert O'Malley, Jr., and Jonas Johnson (left to right) debated treatment options for head and neck cancer at the Triological Society Eastern Section meeting.
"The best data suggest 70% of patients with T2 laryngeal cancer are cured with radiation, which means a 30% failure rate. If those [failed] patients are carefully followed, they can often be treated with partial laryngeal surgery." However, if patients are not followed carefully, 30% of the failed patients lose their larynx, which is "an abomination," Dr. Johnson said.