Have you ever wondered about the reasoning behind hospital discharge paperwork or the requirement that every patient sign a HIPAA form?Here are explanations for some of the health care policies you come across on a daily basis.
Patient Visitation Rights
When: Previously, patient visitation rights for Medicare-specified hospitals were last updated in July 1999. Since January 2011, the Centers for Medicare and Medicaid Services (CMS) have mandated that these hospitals may not deny a patient the right to choose a visitor.
Who/What: President Obama wrote a memo to the Secretary of Health and Human Services, Kathleen Sebelius, on April 15, 2010, instructing her to take steps to protect the rights of same-sex couples to choose their hospital visitors. The resulting provisions were amended to the Social Security Act, in Section 1861, and include language that protects patients and their visitors regardless of sexual orientation or marital status. This new language also dictates how hospitals are accredited.
Why: Before the January 15 amendment, the Social Security Act left many patients' rights up to the states to decide. Several states refused to defend a patient's right to choose a visitor if said visitor was not a marital spouse or immediate family member. In his memo to Secretary Sebelius, President Obama iterated that states' denial of patient visitation rights was discriminatory and unjust.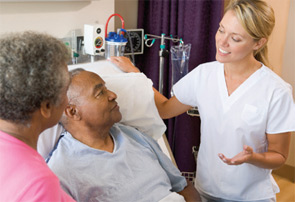 In Practice: Hospitals must disclose visitation rights to every patient and may not prevent the patient from choosing any visitor desired as long as that visitor does not interfere with hospital procedures or safety regulations.
Update: Since January 15, states like Wisconsin have moved to stop enforcing the new law protecting same-sex couples' visitation rights.
Sources:
Bond B. Hospital visitation regulations go into effect today. Office of Public Engagement weblog. January 18, 2011.
U.S. Department of Health and Human Services. Centers for Medicare and Medicaid Services. 42 CFR Parts 482 and 485. Medicare and Medicaid programs: changes to the hospital and critical access hospital conditions of participation to ensure visitation rights for all patients. November 19, 2010.
Hospital Discharge
When: The new policy went into effect on April 1, 2011.
Who/What: Update to the Affordable Care Act (ACA) from the CMS.
Why: The requirement of a face-to-face encounter as part of the ACA helps to ensure that physicians make appropriate judgments about a patient's need and eligibility for home care prior to discharge from the hospital.