One attribute of electronic records is the "paper" trail they create. "I think EHR documentation has been one of many reasons for a decrease in the number of malpractice claims," said Edward B. Ermini, MD, chair of the Medical Informatics Committee of the American Academy of Otolaryngology-Head and Neck Surgery (AAO-HNS). "The best defense against a lawsuit is good documentation and, if used properly, electronic medical records can help with that."
Additionally, EHRs provide information that can prevent physicians from making mistakes. "What physicians do is make decisions, and the more information that's available, the better those decisions are going to be," said Dr. Ermini. The best systems, he said, give doctors the information they need to make good decisions, resulting in fewer errors that can lead to malpractice claims.
By prompting clinicians to enter information that might otherwise be overlooked or forgotten, the EHR system forces them to keep more thorough records and help track a patient's satus over time. "If an EHR has a mechanism that reminds a doctor to do a routine or appropriate follow-up, it can prevent a missed diagnosis," said Rodney Lusk, MD, president of the AAO-HNS, who has been working with electronic medical records for more than 15 years and authors the "Tech Talk" column in ENT Today. "For example, maybe a lesion was biopsied and turned out to be cancer, but the doctor didn't get that piece of paper for some reason. It will be in the patient's EHR."
EHRs may also enhance doctor-patient communication, Dr. Ermini said. "When you have all the information in front of you and you can review it quickly before you see the patient, they feel that you know and remember what they told you at the last visit, and it makes them feel that they are being taken good care of."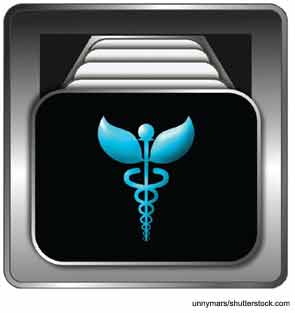 Rapid communication of lab and test results also make for happier patients and can be facilitated by EHRs, said Dr. Lusk. "If the lab results come in, I can communicate the findings to the patient through the web portal. I don't have to waste time running the patient down, and they don't have to waste time running me down." The result: a happier—and presumably less litigious—patient.
The Other Side of the Coin
Not everyone is a fan of EHRs. "[Many of these systems] seem to have been designed by software engineers and computer scientists and often don't address physician needs in a straightforward fashion." said Charles Kossman, PhD, MD, a hematologist-oncologist in San Diego, Calif., clinical professor of medicine at the University of California San Diego and board member of The Doctors Company, a large malpractice insurer based in Napa, Calif. Among his gripes: limited compatibility among systems from different manufacturers and systems that shut users out after just a few minutes of inactivity or that move information to difficult-to-access areas after just a few days. "What if someone else has ordered a blood test for my patient four or six days ago and the system only keeps it as part of the immediate record for 72 hours? I can't immediately access that information; I have to look for it in another part of the system," he said.