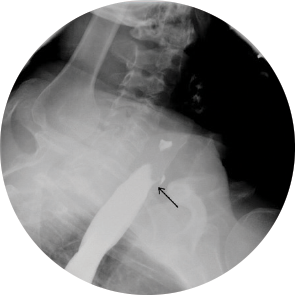 Presentation: A 57-year-old nonsmoking woman presented with a five-year history of persistent, nonproductive cough. Her past medical history was significant for hypothyroidism, hypertension, gastroesophageal reflux disease, kidney stone, depression, and bipolar disorder. She had no history of trauma or cancer to her neck. A review of symptoms was positive for hoarseness, wheezing, shortness of breath, and occasional difficulty swallowing dry food. She denied any history of hemoptysis or dysphagia with solid foods. She used inhalers and cough suppressants as required. Physical examination was unremarkable.
A thin barium esophagogram in both upright and recumbent positions was performed (Figure 1).
—Submitted by Jesse Qualliotine, BS, Emmanouil P. Pappou, MD, PhD, Daniela Molena, MD, and Young Kim, MD, PhD, Johns Hopkins Medical Institutions, Baltimore
What's your diagnosis? How would you manage this patient? Go to the next page for discussion of this case.