ORLANDO, FL-A novel device that was developed to help improve cough in patients with Parkinson's disease (PD) has an intriguing additional effect-it helps improve swallow function too. It could prove useful in people with conditions such as PD early on in the course of cough and swallowing dysfunction.
The device, called the Expiratory Muscle Strength Trainer (EMST), is a new hand-held device about the size of an inhaler, and is used by patients to help strengthen the muscles that are used in cough. The device, and how it came to be, was described at the recent annual COSM conference by Teresa Pitts, MA, a doctoral student in communication sciences and disorders at the University of Florida, who spoke at the Neurology Working Group panel at the American Laryngological Assocation (ALA) session.
The device is a resistance trainer. The patient has to generate an expiratory airflow to meet the threshold for what the therapist demands. It's a spring-loaded valve and it has a release so when they meet the threshold the valve releases and the air can move through, Ms. Pitts told ENT Today. She presented data describing patient experience with the device as well as details of findings relating to cough and swallow studies.
Airway protection is especially important in a neurogenic population such as PD patients. The question is how to clinically treat this population to improve their swallow and cough functions. Indeed, aspiration pneumonia is the leading cause of death in PD patients.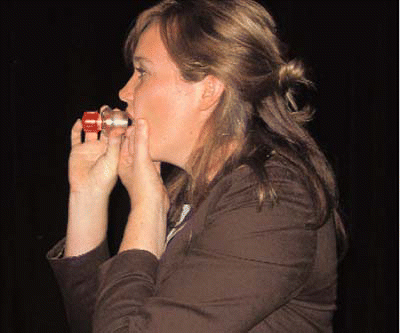 click for large version
Figure. Doctoral student Teresa Pitts, MA, demonstrates the EMST device, which is used to help patients improve their coughing and swallowing functions.
It is a problem that needs to be caught, and treated early on. Clinically this is something clinicians need to be aware of as being a problem, and that their patients are beginning to develop an inability to cough and to respond to that, she said. She described some of the cough and swallow findings from her center.
Connection Between Dysphagia and Cough
Dysphagia begins early in PD, but it is sometimes difficult to diagnose. The literature would say most of are silent aspirators. We would say they have little to no awareness of the fact the bolus has entered the airway, and they have little to no cough response, Ms. Pitts said.
In many examinations, coughs are elicited by the physician, who asks the patient to cough up a bolus. There are three phases in a cough. First is the inspiratory phase, where air is moved into the pulmonary system through movement of the diaphragm. Next is the compression phase, in which the abdominal wall begins to contract. Third is the expiratory phase, a ballistic action of the respiratory muscles to produce high linear airflows.
But was there a connection between dysphagia and cough? Earlier studies had shown that with stroke patients, as swallow function got worse, cough function declined too. In stroke patients, it is difficult to elicit volunteer cough in severe aspirators.