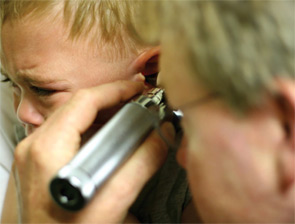 The question of how soon to give antibiotics to children with acute otitis media (AOM) is receiving renewed attention with the publication of two studies that show the benefit of immediate treatment over the "wait-and-see" approach recommended in the 2004 guidelines of the American Academy of Pediatrics and the American Academy of Family Physicians (AAP/AAFP) (Pediatrics. 2004;113:1451-1465).
The new studies, one from Pittsburgh (N Engl J Med. 2011;364:105-15) and the other from Finland (N Engl J Med. 2011;364:16-26), both show a significant reduction in symptoms and clinical failure rates in children with AOM who were younger than two years of age and were treated with antibiotics compared to those who were not treated.
For most physicians in the U.S. who continued immediate treatment of AOM with antibiotics even after the 2004 recommendations, the new studies add weight to that decision. Physicians who have adopted a "wait-and-see" approach, largely in response to growing concern over the antibiotic overuse and multi-drug resistant bacteria that helped drive the 2004 recommendations, may need to rethink which children to observe before initiating treatment if necessary.
However, a key message of both studies is that optimal treatment of AOM depends on accurate diagnosis. For all physicians who treat AOM, therefore, the debate over whether to treat with antibiotics immediately or observe really hinges on identifying which children truly have AOM.
"The question is not so much about the use of antibiotics; it is the big clinical dilemma of accurate diagnosis of AOM," said Julie L. Wei, MD, associate professor and pediatric otolaryngologist at the University of Kansas School of Medicine in Kansas City. "The overprescription of antibiotics comes from the misdiagnosis or overdiagnosis of AOM."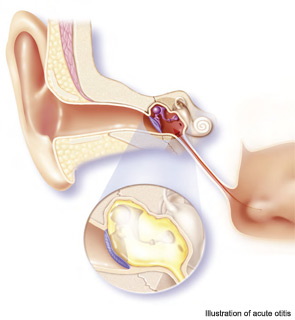 Illustration of acute otitis
Spotlight on Accurate Diagnosis of AOM
Recognizing the importance of accurate diagnosis of AOM for optimal treatment, investigators of both studies used stringent diagnostic criteria (see Table 1).
"These are the best articles written on AOM because they used strict diagnostic criteria," "The strict diagnosis means that only children with true acute otitis media were included and children with otitis media with effusion (OME) were excluded," said Allan S. Lieberthal, MD, a pediatrician at Kaiser Permanente, Panorama City, Calif., and one of the authors of the 2004 AAP/AAFP guidelines.
According to Dr. Lieberthal, prior studies, including those that informed the recommendation for the "wait-and-see" approach of the 2004 AAP/AAFP guidelines, included children with OME, and the results of those studies showed poorer outcomes for children who were observed compared to those treated.