However, a key message of both studies is that optimal treatment of AOM depends on accurate diagnosis. For all physicians who treat AOM, therefore, the debate over whether to treat with antibiotics immediately or observe really hinges on identifying which children truly have AOM.
"The question is not so much about the use of antibiotics; it is the big clinical dilemma of accurate diagnosis of AOM," said Julie L. Wei, MD, associate professor and pediatric otolaryngologist at the University of Kansas School of Medicine in Kansas City. "The overprescription of antibiotics comes from the misdiagnosis or overdiagnosis of AOM."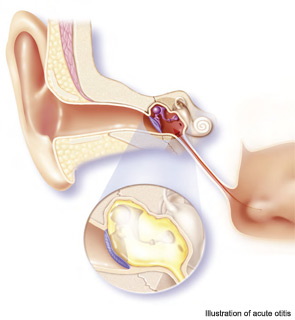 Illustration of acute otitis
Spotlight on Accurate Diagnosis of AOM
Recognizing the importance of accurate diagnosis of AOM for optimal treatment, investigators of both studies used stringent diagnostic criteria (see Table 1).
Pages: First | ← Previous | 1 |2 | 3 | ... | Next → | Last | Single Page