PHILADELPHIA-Constantly advancing computer technology in rhinologic surgery leads to the possibility of better patient care, but also can mean difficult decisions for surgeons weighing whether to make an expensive purchase. Three surgeons gathered to discuss some of the nuances of the technology in a mini seminar at Rhinology World 2009.
Martin J. Citardi, MD, Professor and Chairman of the Department of Otorhinolaryngology-Head and Neck Surgery at the University of Texas Medical School at Houston, said that intraoperative scanning is a way to make computer navigation technology more useful.
Marvin P. Fried, MD, Professor and Chairman of the Otorhinolaryngology- Head and Neck Surgery Department at Albert Einstein College of Medicine in New York, and the panel's moderator, said that computer simulation can be merged with computer navigation, making for an exciting area that can help with both training and with surgeons about to perform real-life procedures.
And Thomas Tami, MD, of the Cincinnati Sinus Institute, said that when it comes to choosing an image guidance system, it is fairly difficult to make a poor choice, as they all will accomplish the same tasks.
Importance of Intraoperative Scanning
In his remarks, Dr. Citardi drew attention to an inadequacy of image guidance systems: Changes to the anatomy during surgery are not reflected in the system.
Because the technology relies on preoperative imaging, it's only as good as the preoperative imaging, and as soon as there are any surgical manipulations there's no real-time update, he said.
That's where intraoperative scanning comes into play, he said. If we can find ways to provide real-time information that reflects what's going on at the time of surgery, and perhaps increase our surgical navigation accuracy, that would be deemed beneficial, he said.
Either CT or MR images can be used. CT images offer good bone detail, the system doesn't take up too much space, it is less expensive (although not cheap), and the emergence of volume CT scanning offers surgeons a valuable tool, Dr. Citardi said.
The MR option offers good soft-tissue detail, but the system is much bigger and requires a dedicated operating-room suite, and it is expensive. I think there's just too high of a real or perceived barrier for wide adoption, Dr. Citardi said about MR imaging.
Two studies have shown that intraoperative scanning can yield impressive results.
In a study by a University of Pennsylvania team released last year, CT scanning was done after endoscopic sinus surgery but before the operation was complete. In six of those cases, surgeons performed additional procedures based on the results of the intraoperative scans. Among the problems that needed to be fixed were residual uncinate process, a missed midline frontal sinus compartment, an incomplete frontal cell type 3 dissection, a residual sphenoethmoidal cell, and a residual posterior ethmoid partition. I think that if one out of four, or one out of three cases, are altered as a result of an intra-operative scanner, this may be a strong argument for adoption of the technology, said Dr. Citardi, who also reported that he is a consultant for Quest Medical and Medtronic ENT.
In another study, in which Dr. Citardi participated while he was at the Cleveland Clinic, 25 patients had intraoperative CT scanning after their endoscopic sinonasal and skull base surgeries. Six of those patients needed additional surgical action, for such problems as residual tumors, retained ethmoid partitions, a thick bone at the frontal beak region, and frontal sinus stent that had been misplaced.
More experience with the technology should offer better guidance, he said. Some of us need to get more experience before it's widely adopted, he said. And then, based on that, we can make a more informed decision about whether this is the next paradigm for rhinologic surgery.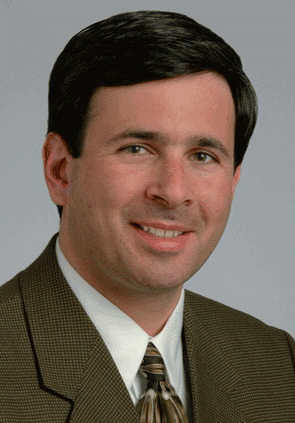 If we can find ways to provide real-time information that reflects what's going on at the time of surgery, and perhaps increase our surgical navigation accuracy, that would be deemed beneficial.
-Martin J. Citardi, MD
Merging Computer Simulation and Navigation
In his talk, Dr. Fried said that endoscopic sinus surgery simulators can be merged with computer navigation to offer major advantages for trainees and surgeons alike. The simulators are based on flight simulation technology and offer different levels of simulated procedures to meet the needs of trainees at different levels.
Those using the simulator hold the instrument to an artificial head and view an image on the screen. The machine simulates spatial relationships, the sinus anatomy, the manner in which actual instruments move when and can incorporate many common surgical instruments. It can also present hazards and complications, such as hemorrhaging and optic nerve dissection, for the user to solve.
Studies have shown that the ES3 simulator, developed by Lockheed Martin, yields promising results in the training of residents. Tests using the ES3 agreed with other kinds of tests of surgical skill, Dr. Fried said.
Additional studies have shown that students trained with the simulator completed procedures more quickly, showed a higher confidence level, and demonstrated higher skill with instrument manipulation. The ES3 now has a validated record based on strict academic criteria, he said.
Dr. Fried said that his institution is working with the University of Hamburg to create a volumetric database for creation of the simulated environment. That will allow the patient's own data to be incorporated into the simulator, allowing for the equivalent of a mission rehearsal, he said. A patient goes for a CT scan. You can take that patient's CT scan, place it in a simulator, and then perform the operation that you were going to perform on the patient first in a simulated environment.
That technology will also allow surgeons to mark certain parts of the sinus anatomy so that surgeons, while performing procedures, can be alerted that they are getting close to sensitive areas.
When you take them back into the operating room, as you do in your car navigation system, as you're approaching the optic nerve, this will start beeping and say, 'Approaching optic nerve,' because you've already marked it, Dr. Fried said.
I do believe that within five or ten years, you're going to be seeing this integration of where we're going to take navigation to the next step.
Choosing the Right System
Dr. Tami took on a topic that might lead to confusion for some surgeons: how to choose an image guidance system in the first place.
He said there are three systems that use infrared technology: the Medtronics LandmarX, BrainLAB's Kolibri and Vector-Vision, and Stryker Navigation's iNtellect.
And there are two main systems that use electromagnetic technology: the Medtronics Fusion and the General Electric InstaTrak.
I don't think there's a bad system. I don't think that you can go wrong and say, 'Oh my God, I got this one and I should have gotten the other one,' because they'll all function, Dr. Tami said. It's a matter of getting used to it.
The advantages of infrared technology are that there is no interference from metallic instruments or from the operating room table, the systems are widely available with a good track record of usage, and they are easily adaptable to multiple instruments. A disadvantage is that the line of sight can be limited by the infrared camera.
For the electromagnetic systems, an advantage is that there are no problems with the line of sight. But a major disadvantage is that it uses wired instruments and there can be electromagnetic metallic interference.
All the systems can use MRI, CT, and PET images; can track several instruments at a time; register patients easily; are highly accurate; are portable; offer multiple views; and all cost about the same.
It depends on who your dealer is, who your rep is, what kind of deal you have with them, but about $100,000 is the range for most of these systems, Dr. Tami said. Some are a little less, some are a little more, but they're all pretty much in the same ballpark.
Considering all the similarities, which system to buy really depends on the support the surgeon will have once he or she gets it. You need to be able to depend on who you are buying the system from, who's going to be there servicing it, help you when there are problems, he said.
Doctors should also consider other practitioners who might be using the system-a neurosurgeon, perhaps-and be sure the system works well for both.
Dr. Tami said it is crucial to understand the system once it is purchased; a pet peeve of his is surgeons who get a system but don't learn how to use it.
If you have an image guidance system, you need to know how to work it, he said. I think that it's foolhardy to have it and expect your nursing staff to be able to run it or expect the tech to come in and run it when you need to use it. I know people who I work with or have worked with who, if there's not a resident around or there's not the nurse there, if something happens, they're lost.
Dr. Tami said that, when it comes to image guidance systems and other purchases, whether to buy a system is often seen through a strictly financial lens.
The decisions are mostly local financial decisions, especially in today's environment, he said. It's getting more and more difficult to get hospitals and surgery centers interested in purchasing equipment if they can't see a large financial benefit for themselves.
©2009 The Triological Society