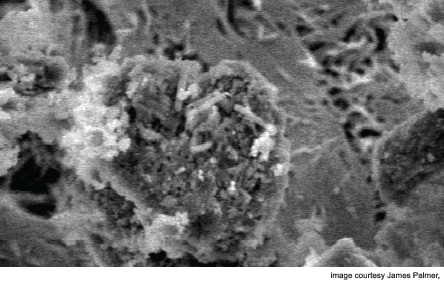 A pseudomonas biofilm from a paranasal sinus.
Does smoking prevent sinus surgery from making patients feel better? Over the years, evidence and expert opinion have varied on this topic. As a result, some surgeons refuse to provide endoscopic sinus surgery (ESS) for active smokers, while others will operate because they believe surgery improves quality of life.
"First, you have to understand the way we look at improvement after ESS," said Douglas Reh, MD, associate program director of otolaryngology-head and neck surgery at Johns Hopkins Hospital in Baltimore. One measure is objective outcomes, the things you can see on CT scans or in endoscopy scores. The second is health-related quality of life (QOL) measurements, which, in Dr. Reh's opinion, are more important.
The Conflicting Evidence
"I think that, traditionally, most people thought that smokers would have worse outcomes after sinus surgery, because smoking is bad for you," said Rodney Schlosser, MD, a professor of otolaryngology-head and neck surgery at the Medical University of South Carolina in Charleston. But, "as they did the research and looked at quality of life, among other things, they found that smokers did not have worse outcomes."
For example, a November 2009 study of 235 patients published in Laryngoscope (119(11):2284-2287) reported that over a four-year period both smokers and nonsmokers continued to maintain a highly significant improvement in SNOT-20 scores following ESS. The authors noted that "although smoking remains a well-documented cause of medical morbidity, smokers maintained an improvement in quality of life after long-term follow-up." They said their findings are consistent with other prospective studies (Laryngoscope. 2005;115(12):2199-2205).
The study's senior author, Stilianos E. Kountakis, MD, PhD, chief of rhinology at Georgia Health Sciences Health System in Augusta, Ga., told ENT Today that his team plans a follow-up evaluation that will look at QOL and SNOT-20 scores for these patients eight years after surgery.
A prospective study of 784 patients published in International Forum of Allergy and Rhinology (2011;1(3):145-152) found that smokers and nonsmokers experienced similar improvement in health-related quality of life. The authors noted, however, that while overall changes in endoscopy scores did not differ between smokers and nonsmokers, there was a significant difference in the prevalence of worsening post-operative endoscopy scores between heavy smokers (≥20 cigarettes per day), light smokers (<20 cigarettes per day) and nonsmokers (100 percent, 33 percent, and 20 percent, respectively; p = 0.002).
Nonetheless, "we do surgery to improve a patient's quality of life, not the appearance of their sinuses," said Timothy Smith, MD, director of the Oregon Sinus Center, Oregon Health and Science University, Portland.