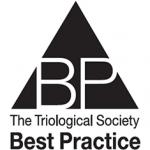 TRIO Best Practice articles are brief, structured reviews designed to provide the busy clinician with a handy outline and reference for day-to-day clinical decision making. The ENTtoday summaries below include the Background and Best Practice sections of the original article. To view the complete Laryngoscope articles free of charge, visit Laryngoscope.
Background
Blood loss during major head and neck surgery can be significant. In head and neck cancer patients, complex extirpations with reconstruction can lead to acute blood loss anemia, often in addition to an anemia of chronic disease. Therefore, consideration of blood transfusion in the postoperative course is not uncommon. However, questions remain regarding the ideal criteria for transfusion in these patients. The surgeon seeks to maximize tissue oxygenation especially when managing free tissue transfer, while also weighing the possible deleterious effects of a liberal transfusion regimen. Furthermore, resource utilization concerns play a role in transfusion decision making.
There is a paucity of literature regarding blood transfusion criteria in head and neck surgery, with only one study challenging historic transfusion norms in free tissue transfer patients. Other studies have explored the negative associations between blood transfusion and outcomes in head and neck cancer surgery. Where otolaryngology-related data are lacking, high-level evidence from critical care literature can be used to provide more insight.
Best Practice
Liberal transfusion does not appear to improve tissue oxygenation and outcomes in major head and neck surgery; in fact, it can result in greater complications. Evidence supports more conservative transfusion criteria, demonstrated by a cutoff of hematocrit <25%. It is also reasonable to extrapolate results from critical care practices to lower transfusion triggers even further to hemoglobin <7 g/dL, although this has not been specifically studied in head and neck surgery or free flap reconstruction (Laryngoscope. 2017;127:1733–1734).