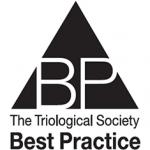 TRIO Best Practice articles are brief, structured reviews designed to provide the busy clinician with a handy outline and reference for day-to-day clinical decision making. The ENTtoday summaries below include the Background and Best Practice sections of the original article. To view the complete Laryngoscope articles free of charge, visit Laryngoscope.
Background
In major head and neck surgery, the aerodigestive tract often is entered, which exposes the surgical site to oral cavity and pharyngeal flora and saliva. Thus, surgical site infection (SSI) frequently is a risk in this patient population. The development of an SSI in a patient who has undergone a major head and neck procedure with or without free flap reconstruction can be a significant setback, resulting in delayed discharge and prolonged wound care. These complications also may make timely implementation of necessary adjuvant treatments difficult. In addition, many patients undergoing major head and neck surgery have significant risk factors for infection and wound-healing issues, including malnutrition, previous chemotherapy/radiation, previous surgery, tobacco/alcohol use, and other medical comorbidities. It has been established that antimicrobial prophylaxis can reduce the risk of SSI and decrease patient morbidity after major head and neck surgery. However, there has been a general lack of consistency and evidence-based practice among many head and neck surgeons with regard to antibiotic choice and duration. Fortunately, these issues have been addressed in several recent studies, allowing head and neck surgeons to implement antibiotic use based on a more sound foundation of evidence.
Best Practice
Based on best available evidence, ampicillin/sulbactam is the preferred perioperative prophylactic antibiotic in major head and neck surgery because it is associated with lower rates of surgical site infections and flap complications. The use of clindamycin appears to be associated with a higher rate of SSI in this patient population. In patients with a true penicillin allergy, an antibiotic with extended aerobic gram-negative coverage, such as a second- or third-generation cephalosporin, is preferred. In addition, short-course antibiotics (less than 24–48 hours) are noninferior to long-course antibiotics. A single study suggests that 48 hours of ampicillin/sulbactam is superior to 24 hours; however, future studies are needed to confirm this finding (Laryngoscope. 2017;127:1009–1010).