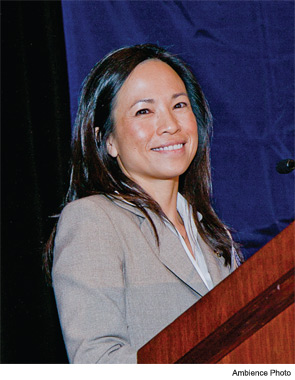 Dr. Nguyen speaking on April 20.
Awards for the best Triological theses this year went to three researchers, including two co-Mosher Award winners and a Fowler award winner. The awards were given here at the 115th Annual Meeting of the Triological Society on April 20, held as part of the Combined Otolaryngology Spring Meetings.
Nira Goldstein, MD, MPH, associate professor of otolaryngology at SUNY Downstate Medical Center in Brooklyn, N.Y., received a Mosher Award for her work in developing a clinical assessment test that seems to reliably evaluate children for sleep-disordered breathing.
Judith Lieu, MD, MSPH, assistant professor of otolaryngology-head and neck surgery at Washington University School of Medicine in St. Louis, tracked the educational performance and cognitive abilities of children with unilateral hearing loss (UHL), work that also earned her a Mosher Award.
Quyen Nguyen MD, PhD, an associate professor in the division of otolarynology-head and neck surgery at the University of California, San Diego, won the Fowler Award for developing probes that illuminate tumor tissues and nerves, which helps with resections.
Pediatric Sleep-Disordered Breathing
In her study, Dr. Goldstein set out to establish a reliable way to evaluate children for sleep-disordered breathing in the clinic rather than requiring expensive overnight polysomnography (PSG), a method not always easily available even if the expense is justified.
"Greater than 90 percent of children in the United States are treated for sleepdisordered breathing based on clinical assessment alone," Dr. Goldstein said. "Prior studies have shown the accuracy of clinical assessment in predicting a positive sleep study is rather poor. It ranges from 30 to 81 percent [in children]."
Researchers offered enrollment to 104 families with children between the ages of 2 and 12 years old; 100 enrolled, with 94 of them actually getting overnight studies. In the PSG, 66 children tested positive and 60 had surgery as a result, and 28 of those had post-operative studies. Before the PSG, the parents of the children completed the OSA-18 and PedsQL 4.0 (two quality-of-life assessments) and the Child Behavior Checklist (a standardized measure of child behavior). Researchers reduced the 30 initial assessment items to 15, which became the basis for the CAS-15 test, after an item reduction and principal components analysis.
The area under the curve for the CAS-15 in predicting a positive polysomnography test was 77 percent. Researchers determined that the optimal score was greater than or equal to 32, which resulted in a sensitivity of 77.3 percent and a specificity of 60.7 percent. All 41 children with a CAS-15 of 32 or greater and who underwent a PSG had a post-operative CAS-15 score of less than 32, indicating improvement. The highest post-operative score was 30.