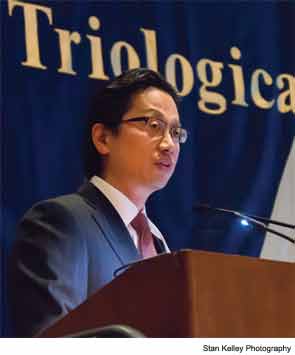 Joseph M. Chen, MD

ORLANDO—Three researchers received awards for excellence in their Triological Society candidate theses this year, including two co-Mosher winners for recognition in clinical research and one Fowler winner for basic research. The awards were presented here on April 12 at the 116th Annual Meeting of the Triological Society, held as part of the Combined Otolaryngology Spring Meetings.
Joseph M. Chen, MD, an otolaryngologist at the Sunnybrook Health Sciences Centre at the University of Toronto and co-Mosher winner, presented his study, "Cost Utility Assessment of Bilateral Cochlear Implantation: A Health Economic Evaluation in Adults from the Perspective of a Publicly Funded Program," which brought into question the cost effectiveness of bilateral cochlear implants.
The second co-Mosher winner, Adam M. Zanation, MD, assistant professor of otolaryngology/head and neck surgery at the University of North Carolina Chapel Hill, took a look at how multidisciplinary tumor conferences
affect treatment in head and neck cancer in his thesis, "How Does Coordinated Multidisciplinary Care Impact Head and Neck Tumor Treatment and Planning? A Prospective Evaluation of a Multidisciplinary Tumor Conference."
The Fowler Award was given to Subinoy Das, MD, assistant professor of otolaryngology-head and neck surgery at Ohio State University in Columbus and director of The Ohio State University Sinus and Allergy Center, whose study, "Improving Patient Care Via a Protein-Based Diagnostic Test for Microbe-Specific Detection of Chronic Rhinosinusitis," used protein analysis to identify whether infections are viral or bacterial in cases of chronic rhinosinusitis, with the ambition of developing a simple, point-of-care test that could help avert antibiotic overuse.
Cost of Bilateral Cochlear Implants
Dr. Chen said that he and his team set out to assess the cost utility of bilateral cochlear implants because the literature includes such a wide range of costs. The most favorable cost utility figures put bilateral implants at a cost that ranges between $30,000 and $40,000 per quality-adjusted life year (QALY). But the high end of the range runs to $94,000 per QALY for children and up to $132,000 per QALY for adults, which is quite a bit higher than $50,000 per QALY, a standard that's been established as society's "willingness to pay." Dr. Chen said, "The evidence is sort of all over the place."
His analysis, involving 142 participants comprised of 52 health professionals and 90 patients, was based on Canada's publicly run health care system, but he said it could be valuable to the system that exists in the United States.