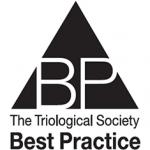 TRIO Best Practice articles are brief, structured reviews designed to provide the busy clinician with a handy outline and reference for day-to-day clinical decision making. The ENTtoday summaries below include the Background and Best Practice sections of the original article. To view the complete Laryngoscope articles free of charge, visit Laryngoscope.com.
Background
Oral cavity squamous cell carcinoma (OCSCC) has an especially high propensity for occult cervical metastasis, with early reports estimating this risk to be more than 40%. Although early-stage (cT1-2) OCSCC can often be cured with surgery, metastasis to cervical lymph nodes portends a poor prognosis. Nodal metastasis has a profound effect on mortality; the five-year survival rate is reduced by approximately 50% in these patients. Traditional therapy for early-stage OCSCC involves surgical resection or irradiation of the primary tumor, with treatment of the clinically positive neck. However, until recently, there have been no large-scale, prospective studies evaluating optimal management of the clinically negative (cN0) neck. This is particularly concerning given the increased rate of regional recurrence in a previously cN0 neck and the relatively poorer outcomes among patients undergoing salvage therapy. As such, multiple prior studies have attempted to improve outcomes in the management of early-stage OCSCC by identifying predictors of cervical nodal metastases, or by determining the impact of elective treatment of the cN0 neck—usually through elective neck dissection (END).
Substantial histopathologic evidence has identified depth of invasion (DOI) of the primary tumor as a possible predictor of regional metastasis in OCSCC. However, DOI is broadly defined as the extent of cancer growth beneath an epithelial surface, resulting in a wide range of measurement techniques and threshold values, although more sophisticated histopathologic imaging and analytical tools will likely eliminate these discrepancies in the future. Furthermore, many studies in the literature combine all subsites (oral tongue, floor of mouth, buccal mucosa, lips, alveolar ridge, retromolar trigone) of the oral cavity when determining treatment outcomes without stratification. This is problematic because the clinical behavior manifest in each of these subsites differs based on lymphatic drainage patterns. Finally, accurate determination of DOI is limited to measurements performed on permanent pathologic analysis (as opposed to frozen sections), which precludes decision making for management of the cN0 neck until after primary tumor resection. In light of this growing evidence, is it appropriate to utilize depth of primary tumor invasion as a predictor of regional disease for early-stage OCSCC?
Pages: 1 | 2 | Single Page