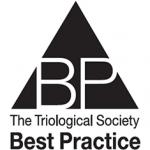 TRIO Best Practice articles are brief, structured reviews designed to provide the busy clinician with a handy outline and reference for day-to-day clinical decision making. The ENTtoday summaries below include the Background and Best Practice sections of the original article. To view the complete Laryngoscope articles free of charge, visit Laryngoscope.
Background
Oral cavity squamous cell carcinoma (OCSCC) is primarily treated with surgical excision, which allows a comprehensive histopathologic assessment of the cancer. Microscopic findings of high-risk features influence patient prognosis as well as additional treatment recommendations, including neck dissection, radiation therapy, or chemotherapy. Perineural invasion (PNI) is recognized as an unfavorable pathologic finding. Additional treatment is widely recommended based on the identification of PNI in OCSCC.
The purpose of this review is to evaluate the oncologic evidence supporting treatment recommendations for patients with early stage OCSCC, with isolated PNI and no additional risk factors.
Pages: 1 | 2 | Single Page