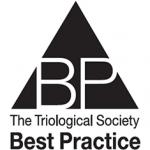 TRIO Best Practice articles are brief, structured reviews designed to provide the busy clinician with a handy outline and reference for day-to-day clinical decision making. The ENTtoday summaries below include the Background and Best Practice sections of the original article. To view the complete Laryngoscope articles free of charge, visit Laryngoscope.
Background
Dementia negatively impacts quality of life and is likely to become more prevalent in the rapidly aging population of the United States. It is estimated that the number of people living with dementia will triple by 2050 and care of these patients will cost approximately $1.5 trillion annually. In addition, dementia places an enormous emotional toll on a patient's family and loved ones. Targeting modifiable risk factors may delay further cognitive decline and help manage dementia, providing therapeutic, financial, and social benefit to the patient, their family, and the healthcare system.
Hearing loss was recently identified as a major risk factor for dementia, with more severe hearing loss associated with higher rates of cognitive decline and impairment. While previous studies demonstrate that cochlear implantation (CI) in the elderly is safe and effective in reversing hearing loss, newer studies assess the effect of CI on independent risk factors for dementia associated with hearing loss, including cognition, depression, social isolation, physical activity, and quality of life. 
Best Practice
CI in elderly patients generally leads to improvement in neurocognition, depression, social isolation, physical activity, and general quality of life, even within the first year of CI use. Although it has yet to be studied specifically among patients with dementia, CI in the elderly is safe, with no increase to perioperative complication with an increasingly aging population and more frequent implantation among the elderly. Larger and longer prospective studies are needed to further develop our understanding of the complex and interrelated causal relationships between hearing loss, dementia, and their shared risk factors.