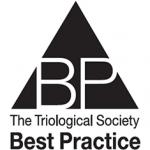 TRIO Best Practice articles are brief, structured reviews designed to provide the busy clinician with a handy outline and reference for day-to-day clinical decision making. The ENTtoday summary below include the Background and Best Practice sections of the original article. To view the complete Laryngoscope articles free of charge, visit Laryngoscope.
Background
Bilateral cochlear implantation (BCI) can be performed either simultaneously or sequentially in children and adults with severe to profound bilateral sensorineural hearing loss. It offers several advantages over unilateral cochlear implantation (UCI), including improvement in speech perception in noise, better sound source localization, and reduced effort required to hear. However, BCI is more costly than UCI, largely due to the cost of the second device. The higher cost prompts the question of whether BCI is cost-effective compared to UCI.
Cost-effectiveness analysis compares one intervention with another with respect to both costs and health outcomes. Cost-effectiveness is usually expressed in terms of quality-adjusted life years (QALY). Common questionnaires that measure healthy utility, a numerical rating assigned to patient's quality of life and an important component of the QALY, include the Health Utilities Index, time trade-off, and visual analog scale. When a QALY is expressed as a function of net treatment cost, it's referred to as an incremental cost-effectiveness ratio (ICER). Whether or not an intervention is deemed cost-effective depends upon whether a given ICER is less than the willingness-to-pay threshold for a given healthcare system.
Best Practice
In children, BCI is cost-effective compared to UCI, particularly when it is performed simultaneously and the second implant is significantly discounted (Table 1). In adults, cost-effectiveness of BCI compared to UCI is borderline and greatly influenced by cost of the second implant and probable duration of use. Thus, in both children and adults, the cost-effectiveness of BCI would be significantly improved with the availability of a cheaper cochlear implant. Further longitudinal studies comparing improvements in healthy utility between patients with UCI and BCI are necessary, particularly in the pediatric population, to increase the accuracy of future cost-effectiveness analyses.