Words and images. Careful observation. Tools of the trade-for art and for medicine.
As expressed by M. Therese Southgate, MD, the respected covers editor of the Journal of the American Medical Association, art and medicine share, among other things, a common substrate-the physical, visible world of matter, and the facility that behooves the practitioner in both fields is the keen eye that enables an individual to ferret out the tiny detail from the jumble of facts, lines, colors-the tiny detail that unlocks a [work of art] or a patient's predicament.1
Wayne F. Larrabee, Jr., MD, Clinical Professor of Otolaryngology-Head and Neck Surgery at the University of Washington in Seattle, and director of the Larrabee Center for Facial Plastic Surgery, which he opened in 1990, possesses that keen eye. In his clinical work and teaching, worldwide humanitarian endeavors, and avocation as a poet and photographer, Dr. Larrabee assesses and composes, deciphering what he sees, and executing with precision whether by scalpel, camera lens, or pen.
Dr. Larrabee has held a number of leadership positions in otolaryngology during his career. Among them: He is the current president of the American Board of Otolaryngology. He is the founder and editor of the Archives of Facial Plastic Surgery, part of the JAMA/Archives family of journals, which has just celebrated its 10th anniversary. He has been president of the American Academy of Facial Plastic and Reconstructive Surgery and the American Board of Facial Plastic and Reconstructive Surgery. He is the recipient of dozens of awards, including citations for his contributions to facial plastic surgery, excellence in teaching and in research, and pro bono surgical treatment of the victims of war violence.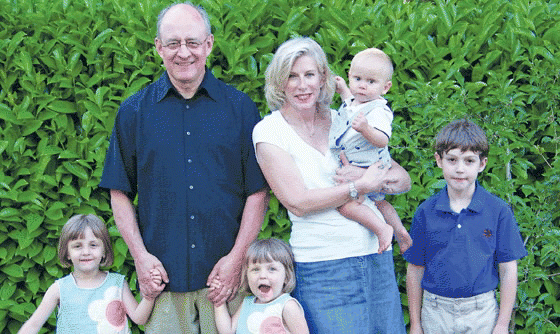 click for large version
Figure. Dr. Larrabee and his wife, Tane, with Cate (age 4), Grace, (age 3), Rinat (age 1) and Gregory (age 8).
Beginnings and Appointments
After graduating in 1971 from Tulane Medical School in New Orleans with an MD and an MPH in epidemiology, Dr. Larrabee held a surgical internship in San Francisco. Then, as a major in the US Army Medical Corps, he directed public health and disaster relief programs for the Southern Command in Latin America. He earned an Army Commendation Medal for public health efforts including the development of a hearing conservation program in the Canal Zone, medical civic action work in the Republic of Panama, and relief work during the 1972 earthquake in Managua, Nicaragua.
After a surgical residency in New Orleans (see Charity Hospital) and a residency in the Department of Otolaryngology and Maxillofacial Surgery at Tulane University Hospitals, he accepted an appointment at the Virginia Mason Medical Center and moved to Seattle in 1979. He progressed to become section head and president of the research center board.