The first time Gayle Woodson, MD, went on an international otolaryngology outreach mission 15 years ago, she was "a little afraid to go." The chair of otolaryngology at Southern Illinois University in Springfield was traveling to Tanzania, a country prone to violence and war, and there was no telling what kind of environment she was entering.
Dr. Woodson still recalls what an impression the experience made on her. "I was always thinking I wanted to give back. On my first trip to El Salvador, we had armed guards at all times. Over time it was a lot safer, and it was incredible to see the changes in the people—standing up straight, and looking us in the eye with dignity," she said.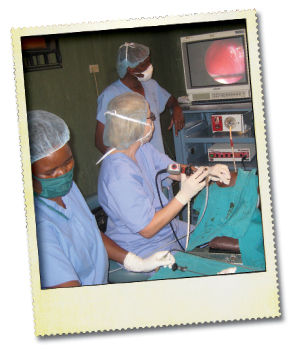 Dr. Woodson performing video bronchoscopy at Kilimanjaro Christian Medical Centre
Dr. Woodson is one of approximately 10 to 15 percent of the 9,000 members of the American Academy of Otolaryngology-Head and Neck Surgery (AAO-HNS) who, according to Catherine Lincoln, CAE, MA, senior manager of the Academy's International/Humanitarian Affairs Committee, participate in international medical missions. Volunteers include practicing otolaryngologists, residents and retirees, she said. But while doctors say such trips are intrinsically rewarding, how can they know the missions are measurably successful?
Several groups are in the process of establishing approaches to measure the effectiveness of their programs. James E. Saunders, MD, associate professor of otolaryngology at Dartmouth College in New Hampshire and chair of the AAO-HNS Humanitarian Efforts Committee, said the movement might be a result of a generational shift in humanitarian service.
"More and more younger individuals [are getting] involved and asking the harder questions about the larger picture of what we offer, thinking about things like public health issues that impact on the diseases we treat…and also an increasing interest in research that is related to international medicine, whether on the causes of disease, the resources available or the outcomes of such work," he said.
Evidence-Based Missions
The AAO-HNS Humanitarian Efforts Committee recently appointed a group within the committee to look at best practices, reasonable outcomes and ethics abroad. According to Dr. Saunders, the group met in October to discuss these issues, and plans to draft a post-trip action survey to assess the effectiveness of their techniques abroad, such as training local doctors and involving them in the administration of treatment.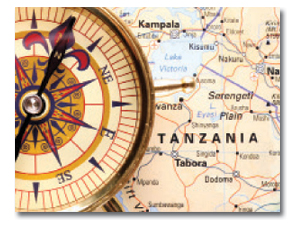 "I think our goal as a committee will be more of saying, 'This is what I think you should strive for, these are the kinds of things that are best practices,' and part of best practice should be evaluating outcomes, no question," he said.