The forehead skin is lifted, the corrugator and procerus muscles cut, and the brow repositioned. Other muscles and tissues may be released from their attachments around the orbital rim and the temple. The entire forehead is then lifted vertically and secured by small metal posts, which are removed 10 days later. The incisions are closed with sutures or clips and removed in about a week. The face is washed and either bandaged or not, depending on the surgeon's preference. Bandages are taken off in a few days so the patient can shampoo.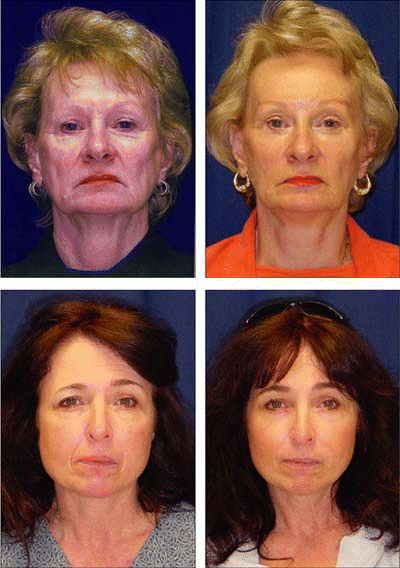 click for large version
Figure. Before and after photos of two patients of Dr. Ricardo Rodriguez who underwent endoscopic brow lifts.
The procedure usually takes no more than an hour and a half and is done on an outpatient basis in the surgeon's office or outpatient surgery center. The patient can resume normal activities in a week or 10 days. Total recovery takes about thee weeks, although that, of course, varies. The lift itself lasts up to 10 years-although sometimes a lot less.
Dr. Ramirez said that numbness and hair loss are temporary and usually resolve within a few weeks or months. Swelling and recovery time are relatively short. Postoperative infection and bleeding are rare but not unheard of.
The most disturbing adverse event for the patient occurs during surgery. If there are a number of complications that cannot be resolved through the small incisions, the surgeon may have to abandon the endoscopic approach and switch to an open coronal procedure. This is disappointing for the patient because he or she will wake up with a much bigger incision and many more sutures than anticipated, but it happens less than 1% of the time.
Comparison with Traditional Lift
The major difference between the traditional (coronal) brow lift and the endoscopic procedure is the size and placement of the incision. A coronal lift involves an incision that extends from ear to ear on the top of the head, or if the patient is bald or has thinning hair, a mid-scalp incision that follows the natural pattern of the skull-so the resulting scar is less conspicuous. One of the advantages is that the surgeon can raise or lower the hairline as necessary, but a strong disadvantage is noticeable broad scarring that could necessitate additional surgery.
According to Al Aly, MD, a partner at Iowa City Plastic Surgery, the coronal procedure takes out a strip of skin in order to lift and smooth the remaining skin. The endoscopic procedure separates the skin from the underlying muscles and rotates it to provide the appearance of lift.