Mini facelifts are gaining popularity, because they can restore the face and neck to a more youthful appearance but are performed under local anesthesia and are therefore safer and less expensive than a traditional facelift. ENToday spoke with two surgeons who have developed variations of mini facelifts-Greg S. Morganroth, MD, and A. David Rahimi, MD-to gain a better understanding of the advantages of these procedures. Dr. Morganroth has developed the Facial Lipo-Lift and Extended Facial Lipo-Lift techniques, and Dr. Rahimi has developed the Tuliplift technique.
Natural Look
The goal of the facelifts I perform is to achieve a dramatic and natural result with minimal scarring. I want my patients to look younger without the classic signs of having had a facelift. People should look at her and think, 'She looks younger, but I don't know why', said Greg S. Morganroth, MD, who is Assistant Clinical Professor of Dermatology at the University of California at San Francisco and Adjunct Clinical Assistant Professor of Otolaryngology-Head and Neck Surgery at Stanford University in Palo Alto, Calif.
The two versions of the Facial Lipo-Lift are performed with local anesthesia. The first, referred to as the Facial Lipo-Lift, consists of facial and neck liposuction combined with a vertical vector, anterior short-scar facelift. The short scar incision extends from the sideburn inferiorly along the ear around the earlobe and up the post-auricular crease to the top third of the ear.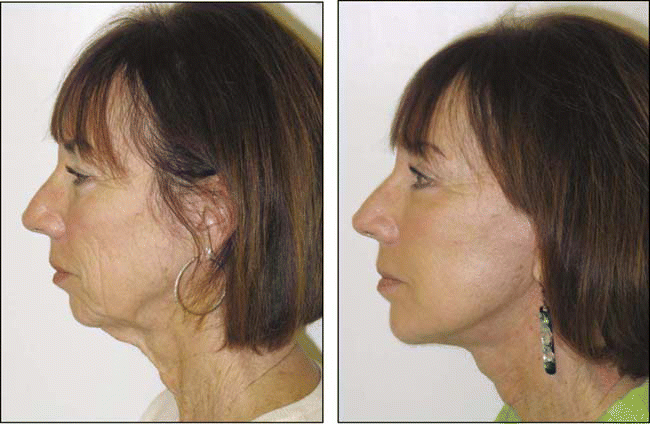 click for large version
Figure. Before (left) and after (right) pictures of a patient who had an Extended Facial Lipo-Lift performed by Dr. Morganroth.
The incision differs from the S-Lift by extending the incision in to post-auricular region to hide the dog-ear behind the ear and to provide for greater plication of the superficial musculoaponeurotic system (SMAS) and skin excision. Undermining extends 5 to 6 cm anterior to the ear and 2.25 cm posterior to the ear.
The difference between the Facial Lipo-Lift and a traditional facelift is that the procedure is performed with local anesthesia, there is only a preauricular flap with limited undermining and plication, and the neck is managed by liposuction without scissor undermining or plication of the platysma muscle, Dr. Morganroth explained.
Extended Facial Lipo-Lift
The second type is called the Extended Facial Lipo-Lift, and is described as a traditional Webster-style facelift performed under local anesthesia combined with liposuction of the neck. In contrast with the non-extended version of the Lipo-Lift, the extended procedure includes an incision that extends 4 to 6 cm into the occipital scalp to form a post-auricular flap that allows for plication of the platysmal muscle and excision of excess neck skin.