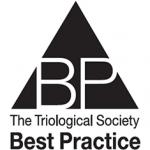 TRIO Best Practice articles are brief, structured reviews designed to provide the busy clinician with a handy outline and reference for day-to-day clinical decision making. The ENTtoday summaries below include the Background and Best Practice sections of the original article. To view the complete Laryngoscope articles free of charge, visit Laryngoscope.
Background
Panendoscopy, or the evaluation of the upper aerodigestive tract with oral inspection, direct laryngoscopy, esophagoscopy, bronchoscopy, or some combination of these procedures, is a valuable tool in the evaluation of patients with head and neck squamous cell carcinoma (HNSCC). Despite the many advances made in imaging technology in recent years, these modalities cannot replace the surgeon's ability to carefully inspect the mucosa of the upper aerodigestive tract to determine the true extent of a lesion and plan for possible surgical resection. Second primary malignancies are also a concern in HNSCC patients; historically, esophagoscopy during panendoscopy has been recommended to rule out esophageal carcinomas. However, this procedure can at times be difficult and also carries the potential for serious complications such as esophageal perforation. Thus, this article reviews the evidence for the utility of esophagoscopy in the diagnostic evaluation of the head and neck cancer patient.
Best Practice
The overall incidence of esophageal secondary malignancies is low in patients with HNSCC. In the absence of concerning imaging findings, esophagoscopy is not necessary in many HNSCC patients, particularly in those with HPV+ disease or those with oral cavity HNSCC. However, esophagoscopy is still useful in many subsets of HNSCC patients, particularly those with primary tumors of the larynx and hypopharynx, abnormal imaging findings in the esophagus, or the inability to undergo PET/CT. Esophagoscopy is generally very safe; whereas flexible esophagoscopy has a lower complication rate than rigid esophagoscopy, the complication rate with rigid esophagoscopy decreases with training and experience. Thus, the decision to perform either rigid or flexible esophagoscopy as part of a panendoscopy procedure is best made on a case-by-case basis (Laryngoscope. 2017;127:2–3).