Transnasal esophagoscopy (TNE) offers physicians and patients a number of advantages compared with conventional esophagoscopy (CE) performed transorally with sedation, and has become increasingly popular in clinical practice over the past several years.
The popularity of TNE began about seven or eight years ago with its introduction to the otolaryngology community, said Gregory Postma, MD, Director of Center for Voice and Swallowing Disorders and Professor of Otolaryngology at the Medical College of Georgia (MCG) in Augusta.
The procedure involves inserting an ultra thin endoscope through the nasal passages and into the esophagus. The endoscope provides excellent illumination and image quality, allowing full visualization of the esophagus, all while avoiding sedation as is necessary with CE, wrote Dr. Postma and his colleagues in a recent paper (Otolaryngol Head Neck Surg 2008;138:411-4).
It has become very popular, explained Dr. Postma. Most residency and training programs now use it, and TNE is still offered at various training courses.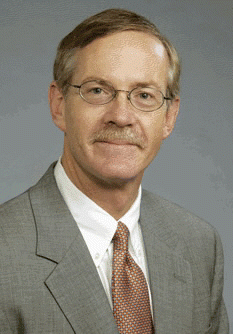 It has become very popular. Most residency and training programs now use it, and TNE is still offered at various training courses.
-Gregory Postma, MD
Media coverage of TNE in the New York Times, Good Morning America, and other outlets over the past year has helped to increase the popularity of the procedure among patients, said Jonathan E. Aviv, MD, Clinical Director of the Voice and Swallowing Center at ENT and Allergy Associates in New York. Because esophageal cancer incidence is growing, physician and patients are looking for better ways to diagnose the disease, and TNE is one of most convenient and safe methods of doing so, he explained.
Indications
Although not yet proven, TNE is likely to lead to an earlier diagnosis of esophageal cancer, which will improve overall patient survival, noted Dr. Aviv, who is also a consultant for Medtronic and Vision Sciences. The disease is usually diagnosed after the patient starts experiencing swallowing problems, and by this time, the one-year mortality rate is 90%, he explained. However, if diagnosed early, about 90% of patients are alive after one year, he added.
In addition to screening for esophageal cancer, TNE is used to examine other pathologies of the esophagus, including reflux esophagitis and eosinophilic esophagitis, the latter of which is being recognized more frequently among young people, said Dr. Aviv.
Eosinophilic esophagitis is extremely common in patients with dysphagia due to allergies but is generally difficult to diagnose, added Dr. Aviv. However, with TNE, the physician can pass the endoscope into the esophagus and take esophageal biopsies to make the diagnosis, he explained.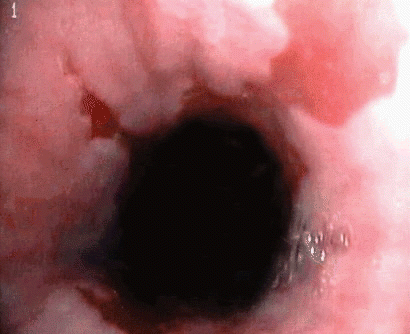 click for large version
Figure. One of many uses for transnasal esophagoscopy is for the detection and surveillance of Barrett's esophagus (shown) to ensure that the disease has not become cancerous.
Physicians also use TNE to assess dysphagia, caustic ingestions, and long-standing esophageal reflux symptoms, said Dr. Postma. Other indications include assessment of chronic cough, globus pharyngeus, laryngopharyngeal reflux, and esophageal varix follow-up, he said. TNE is also used in head and neck cancer patients to assess whether the esophagus is free of a second primary tumor, said Dr. Postma.