The health care reform law passed in March created a $50 million demonstration program to test alternatives to the current medical liability system. But reaction is mixed as to whether the new project will help fix what the physician and medical liability insurance communities view as a flawed and inefficient system.
The Patient Protection and Affordable Care Act authorizes the Department of Health and Human Services to award grants to states to develop, implement and evaluate different approaches to tort litigation. The projects must improve the availability of prompt and fair dispute resolution, encourage disclosure of medical errors, enhance patient safety and improve access to liability insurance.
American Medical Association (AMA) survey findings released in August indicate that, on average, 95 medical liability claims are filed for every 100 physicians. However, about 65 percent of claims against physicians are dropped, dismissed or withdrawn without payment, according to data from the Physician Insurers Association of America (PIAA). Physicians are found not negligent in more than 90 percent of the cases that do go to trial, and about $120,000 is spent defending those claims.
"The new grants alone will not change the medical liability climate in our nation overnight, but they may plant seeds that could have a long-term, positive impact," said J. James Rohack, MD, AMA immediate past president. They are no substitute for caps on noneconomic damage awards, which have proven successful in California and Texas, he said. They could complement damage limits, however.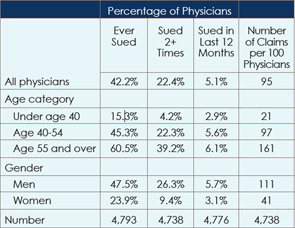 click for large version
States Present Ideas
The demonstration program is an indication that Democrats, who generally oppose noneconomic damage caps, see a need to address the system's problems with medical liability, experts said. In a separate effort, in June 2010, the Obama administration issued similar grants as part of its medical liability reform and patient safety initiative.
If the June grants are any indication, the new project won't focus primarily on reforming the tort system, said Lawrence E. Smarr, PIAA president. All but one of the seven demonstration grants, worth $19.7 million, emphasize patient safety, he said. "It's a good idea to be focusing on patient safety, but that's not tort reform," he added.