State of the Art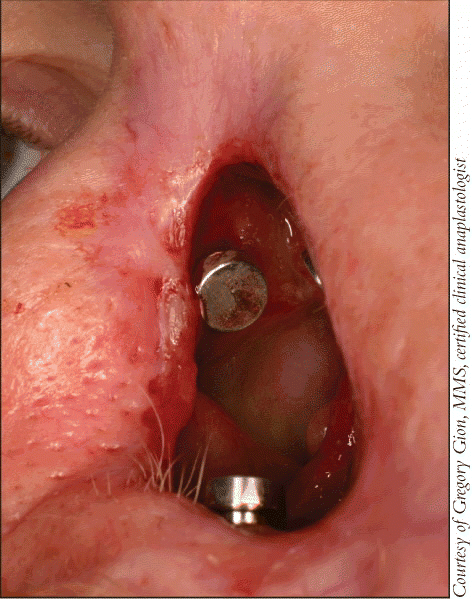 click for large version
Figure. BEFORE: Nasal defect prepared with osteointegrated implants to accept prosthesis.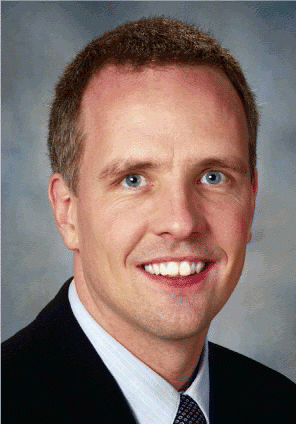 If the patient is able to discuss the procedure beforehand, it is important to explain what the amputation of an eye, nose, or ear will mean. Help the patient understand how a prosthesis will aid in their recovery, but tell them that the prosthesis will never be the same as normal tissue.
-Roman Skoracki, MD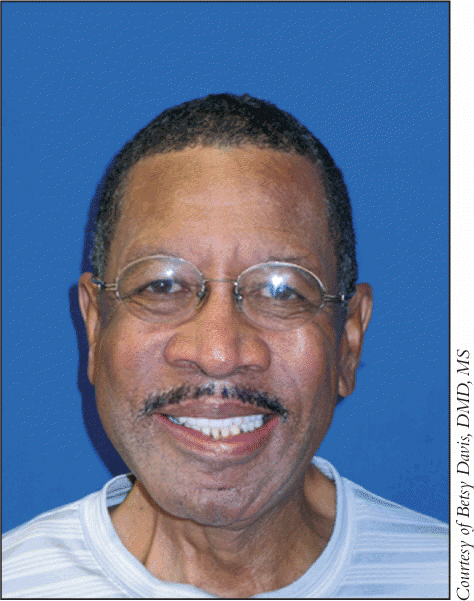 click for large version
Figure. AFTER: Cancer patient with fibular reconstruction of the lower jaw with resection prosthesis in place.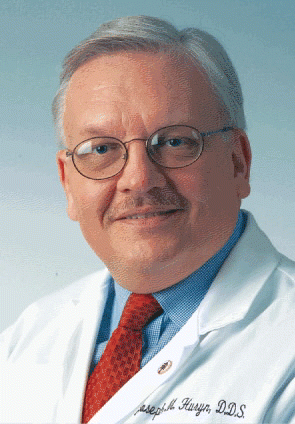 These are not live tissues, and they are not capable of functioning as such. A new eye won't blink. No matter what the extraoral prosthesis looks like, it will not be functional.
-Joseph Huryn, DDS
Traditionally, facial prostheses were hand-sculpted. CAD/CAM (computer-assisted design/computer-assisted manufacture) techniques have revolutionized the field. A CT scan images the anatomical defect and computer-assisted rapid prototyping stores the measurements layer by layer in an electronic file; these are used to create an intermediate wax pattern for a machine-made model. Once a wax model is made, a medical artist-usually an anaplastologist-sculpts the model to match the facial contours and the skin tone of the recipient using computer-aided measurements to create a lifelike prosthetic device as perfectly matched as possible.
Technology is transforming the field of facial prosthetics. Software programs [e.g., Mimics and SurgiCase, Materialise, Ann Arbor, MI] allow the clinician the ability to design the contour of the prosthesis virtually. Color measurement programs of the skin aid in matching all the prosthesis to the skin. Virtual surgical planning software enhances the surgical outcome, said Betsy Davis, DMD, MS, Associate Professor of Otolaryngology-Head and Neck Surgery and Associate Professor of Oral and Maxillofacial Surgery at the Medical University of South Carolina in Charleston.
Most facial prostheses are made of silicones. Over the years, silicones have become more flexible and lifelike, Dr. Huryn said. However, silicone devices have a limited lifespan, usually around two years. It is possible to make several prostheses from the same mold if the patient's lifestyle suggests that a replacement will be needed sooner rather than later.