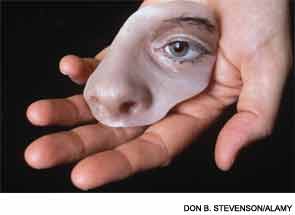 Microvascular free tissue transfer for facial reconstruction, commonly known as free flaps, represents a clear advance in the reconstruction of large facial defects caused by head and neck tumors, trauma or congenital defects. Both cosmesis and function have greatly improved in patients who undergo this procedure, compared with prior treatments of these large defects that relied on suturing together tissues surrounding the defect, which left patients dealing with long-term cosmetic and functional complications.
One clear way to measure this advance is to examine patient outcomes in head and neck cancer patients. According to Daniel Alam, MD, head of the section of facial aesthetic and reconstructive surgery at the Head and Neck Institute Cleveland Clinic in Ohio, the data over the past 50 years on head and neck cancer show that, despite a lack of dramatic change in survival, patient outcomes and patient functional endpoints have improved dramatically from what they were 20 years ago. "A great part of that," he said, "has been the improvement in how we do reconstruction."
How has facial reconstructive surgery changed over the years with the use of free flaps, and what issues may be on the horizon due to its success and expanded use?
Free Flaps: Revolutionary and Evolutionary
Prior to the introduction of microvascular free tissue transfer in the 1960s and 1970s, reconstruction treatment of large facial defects caused by head and neck cancers or trauma relied on the use of regional pedicled flaps that often left patients with permanent cosmetic and functional defects. Microvascular free tissue transfer enabled physicians to rebuild large anatomical areas that were missing due to a tumor, trauma or congenital defect by using tissue from one part of the patient's body for use in reconstructing the defect.
"Free flaps are basically a transplant of a patient's own tissue from one part of the body to another part, and the reason they are called "free" is that the vessels are detached at the primary location and then moved to another spot," said Dr. Alam. For example, if someone has lost a part of their jaw because of cancer, bone can be taken from the patient's leg along with the blood vessels and blood supply and transferred to the jaw in a free fashion to rebuild the jaw.
The ability to do this type of autogenous vascularized transplant has, according to Dr. Alam, "revolutionized facial reconstruction surgery." Additionally, the application of free flaps has evolved over the years, with the refinement of tissue harvest and flap design technologies (See "Free Flap Techniques,").