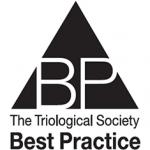 TRIO Best Practice articles are brief, structured reviews designed to provide the busy clinician with a handy outline and reference for day-to-day clinical decision making. The ENTtoday summaries below include the Background and Best Practice sections of the original article. To view the complete Laryngoscope articles free of charge, visit Laryngoscope.
Background
Earlier age at the time of cochlear implantation in congenitally deafened children has been demonstrated to be significantly correlated to improved outcome for numerous measures of speech and language, including auditory perception, sound localization, speech intelligibility, and reading comprehension. However, controversy still remains in addressing the age at which benefits of implantation diminish to the point that an implant is of little use to the recipient.
Hypotheses such as reduced plasticity, delayed development of frameworks involved in communication, and decoupling of auditory pathways have been posed regarding the mechanisms behind this correlation between age and cochlear implant (CI) performance. Nevertheless, some studies do suggest that there still is some, although modest, improvement in even adult CI recipients. Is there an age at which recipients of CIs no longer derive a significant benefit from implantation?
Best Practice
Current literature suggests that open-set speech is unlikely to be attained if implanted during the teenage years or later, although modest improvement in communication and speech recognition may be observed. The decision to implant must also factor in the increasing likelihood of nonuse with age (Laryngoscope. 2018;128:2221–2222).