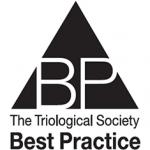 TRIO Best Practice articles are brief, structured reviews designed to provide the busy clinician with a handy outline and reference for day-to-day clinical decision making. The ENTtoday summaries below include the Background and Best Practice sections of the original article. To view the complete Laryngoscope articles free of charge, visit Laryngoscope.
Introduction
Endoscopic endonasal surgery (EES) is performed through a narrow corridor by inserting an endoscope and surgical instruments from the nostril. Securing an adequate working space is thus crucial to manipulating both the endoscope and instruments without conflict. To secure the working space for any type of EES, a large sphenoidotomy with wide opening of the anterior wall of the sphenoid sinus is a crucial step.
The Vidian canal is a well-known landmark for the lacerum carotid artery and is also known as a lower lateral limit in anterior sphenoidotomy (J Neurosurg. 2008;108:177-183). However, localizing the Vidian canal is sometimes difficult in the clinical setting of EES. The palatovaginal canal (PVC) is a bony tunnel formed by the upper edge of the sphenoid process of the palatine bone and the vaginal process of the sphenoid bone that connects the nasopharynx with the pterygopalatine fossa (AJR Am J Roentgenol. 2002;179:267-272). The PVC contains the pharyngeal nerve (PN) and the pharyngeal artery (PA). The PN is a neural branch from the supramaxillary nerve via the pterygoid ganglion, and is thought to be associated with sense of the nasopharynx. The PA is a branch of the maxillary artery and anastomoses with the ascending pharyngeal artery (AJNR Am J Neuroradiol. 1996;17:1148-1150). The PVC is a landmark for the Vidian canal due to its location just medial to the canal, projecting mediocaudally (Laryngoscope. 2012;122:6-12). Appearing as a hole, the PVC can be the first recognized object seen when detaching the nasal septal mucosa laterally and inferiorly from the vomer and sphenoid bone (J Neurol Surg B Skull Base. 2012;73:352-357).
Several studies have described the anatomy of the PVC from computed tomography (CT) scans or cadaveric specimens (AJR Am J Roentgenol. 2002;179:267-272; AJNR Am J Neuroradiol. 1996;17:1148-1150; Laryngoscope. 2012;122:6-12; J Neurol Surg B Skull Base. 2012;73:352-357), but opening the PVC in clinical cases has not been reported in localizing the Vidian canal and maximizing the sphenoidotomy.
Method
This study retrospectively reviewed prospectively collected clinical data and operative videos from those patients who had undergone opening of the PVC and dissection of the pharyngeal artery and nerve (PAN) either unilaterally or bilaterally, among all patients who underwent EES in the Tsukuba University Hospital, Ibaraki, Japan, between November 2017 and December 2018. We examined complications related to this technique, noting if the patients complained of postoperative dysphagia or sensory disturbance of the nasopharynx.
After the anterior wall of the sphenoid sinus is exposed by detaching the overlying mucosa as widely as possible, the medial edge of the sphenoid process of the palatine bone is then visualized at the inferolateral corner of the endoscopic view. At this point, the locations of several anatomical landmarks should be noted, such as the ostium of the sphenoid sinus superiorly, the Vidian canal inferolaterally, and the PVC just medial to the Vidian canal. The anterior wall of the sphenoid sinus is drilled out and the floor of the sphenoid sinus, which offers a good landmark for estimating the location of the PVC, is visualized. The PAN can then be seen covered with periosteum at the superolateral border of the sphenoid process of the palatine bone, representing an exit from pterygopalatine fossa into the PVC. When the sphenoid process of the palatine bone is fractured and removed by bone curette, the PVC is opened, and the PAN are exposed. After coagulating the PAN using a monopolar coagulator, the cut ends of the PAN are dissected from the sphenoid bone from mediocaudally to laterorostrally, and then the Vidian canal and its contents (Vidian nerve and artery) are exposed. After the location of the Vidian canal is recognized, the anterior wall of the sphenoid sinus including the PVC, an area that was originally behind the sphenoid process of the palatine bone, can be resected further laterally to the medial edge of the Vidian canal. Finally, the inferolateral part of the sphenoidotomy is maximized, expanding the inferolateral working corridor for surgical instruments when the instruments are caudally positioned (Fig. 2) or for the endoscope when the endoscope is caudally positioned, thus contributing to increased freedom of movement of the instruments or endoscope and decreased conflict between the instruments and endoscope. (See the video link.)