In the second study, 25 patients used imiquimod three times a week for 12 weeks, and actinic keratosis was cleared in 84% of the cases and another 8% achieved a 50% to 75% reduction in the size of the lesions (Arch Dermatol. 2002; 138: 1498-1502).
He also noted that when used against superficial basal cell carcinoma, patients who administered imiquimod cleared lesions clinically and histologically about 80% of the time when the drug was applied five or seven times a week (Br J Dermatol. 2005; 152: 939-947; J Am Acad Dermatol. 2004; 50, 722-733).
In a small pilot study, lentigo maligna lesions were cleared in all six patients who used imiquimod daily for six weeks. These patients had contraindications for surgery, Dr. Shockley said (Arch Dermatol. 2005; 141: 510-514).
Multiple off-label uses of imiquimod are being explored, he said. The early results are promising.
Biopsies Key for Tackling the 'New Epidemic'
Identifying these skin lesions-especially the ones that are potentially dangerous-depends upon actually performing biopsies. We have to lower our threshold for biopsies, said Stephen Park, MD, Professor and Vice Chairman of the Department of Otolaryngology-Head and Neck Surgery at the University of Virginia in Charlottesville.
He said that the number of cutaneous malignancies being seen is increasing about 3% a year, and is reaching near epidemic proportions. He said skin cancer occurs in one in four adults, and one in 75 is suffering from melanoma.
He advised the physicians that when it comes to skin cancer among their patients: Think of it, look for it, biopsy it, and treat it. He said doctors tend not to do biopsies because the procedure is time-consuming, costly, causes the patient pain, and can result in scarring, and the biopsies are most likely going to be negative.
He said that about 20% of the biopsies performed for suspected cutaneous lesions turn out to be positive-in the same ballpark as biopsies for prostate cancer, breast cancer, and colon cancer. We need to do more biopsies, he said.
Reconstruction: The Final Step of Treatment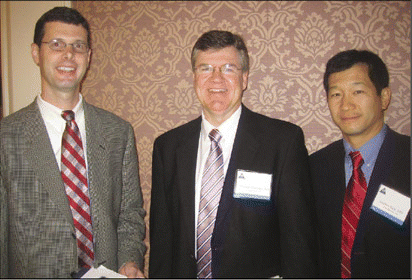 click for large version
Figure. Drs. Brian Jewett, William Shockley, and Stephen Park (left to right) discussed identifying and treating skin lesions on the head and neck at the
Triological Society
Southern Section meeting.
When those biopsies prove positive and major head and neck surgery has to be performed, the next job goes to facial plastic and reconstructive specialists such as Brian Jewett, MD, Assistant Professor of Facial Plastic and Reconstructive surgery at the University of Miami (Fla.), who illustrated how careful planning can turn disfiguring surgery into virtually normal appearances.