NAPLES, Fla.-Doctors who deal with head and neck surgery often are the ones to first diagnose and potentially treat a variety of facial lesions-and they are more and more often finding themselves dealing with lentigo maligna.
The challenge is identifying the lesion properly-discriminating between classifications of lentigo maligna, melanoma in situ, atypical junctional melanocytic hyperplasia, or benign brown spots-and then deciding how aggressively the lesion has to be treated. For this reason, he said, the decision often requires the input of a dermopathologist.
This is the dilemma we run into with lentigo maligna, cautioned William Shockley, MD, Professor and Chief of the Department of Otolaryngology-Head and Neck Surgery and Chief of Facial Plastic and Reconstructive Surgery at the University of North Carolina-Chapel Hill, in a panel discussion here at the meeting of the Southern Section of the Triological Society. It's a tough call, he said, especially since the true margin of the lesion extends beyond the visible margin.
A Growing Problem
The incidence of lentigo maligna is rising, Dr. Shockley said. Lentigo maligna is the most common subtype of melanoma in situ. Progression of lentigo maligna leads to its invasive counterpart: lentigo maligna melanoma. Various studies have indicted that the lifetime risk for invasive melanoma arising from lentigo maligna ranges from 5% to 50%.
He said the problem with lentigo maligna is that if it is not treated properly, there is a high probability that it can recur-and it could recur as malignant melanoma. The question, he suggested, is to how wide and how deep the margins should be to make sure the excision of the lesion is complete.
Lentigo maligna was one of the concerns Dr. Shockley and other panel members discussed during the final presentation at the meeting, which offered a primer in how to deal with head and neck lesions and how to correct these conditions without disfiguring the patient.
Characteristics of Lentigo Maligna
Dr. Shockley described lentigo maligna as a slowly growing, asymmetrical macule, varying in color from brown to black with irregular borders, usually found on the face or neck. The distribution of lentigo maligna lesions on the face closely parallels that of actinic keratoses and squamous cell carcinoma.
It occurs to people with a general history of prolonged exposure to the sun, he said, occurring in older adults most frequently. The average age for a patient with lentigo maligna is 63 years. The flat, pigmented lesions are usually seen with they are between 1 and 3 cm in diameter.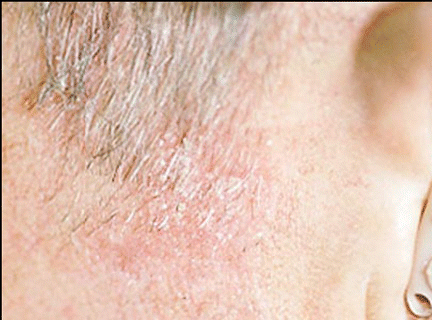 click for large version
Figure. The new wonder drug for actinic keratosis (pictured) is the topical 5% imiquimod cream.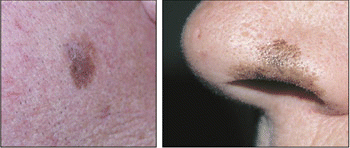 click for large version
Figure. If not treated properly, lentigo maligna (left) can recur as lentigo maligna melanoma (right).Stedman's (left) Goodheart's Photoguide of Common Skin Disorders, Lippincott Williams & Wilkins (right).
When confronted with lentigo maligna, most doctors opt for surgical excision, he said. At some centers, Mohs microscopic surgery is the therapy of choice, he said. Radiation is also selectively used, particularly in cases of large lesions, especially among older individuals. Dr. Shockley said other therapies for lentigo maligna include cryosurgery, laser ablation, electrodesiccation and curettage, and topical agents.