NAPLES, Fla.-Doctors who deal with head and neck surgery often are the ones to first diagnose and potentially treat a variety of facial lesions-and they are more and more often finding themselves dealing with lentigo maligna.
The challenge is identifying the lesion properly-discriminating between classifications of lentigo maligna, melanoma in situ, atypical junctional melanocytic hyperplasia, or benign brown spots-and then deciding how aggressively the lesion has to be treated. For this reason, he said, the decision often requires the input of a dermopathologist.
This is the dilemma we run into with lentigo maligna, cautioned William Shockley, MD, Professor and Chief of the Department of Otolaryngology-Head and Neck Surgery and Chief of Facial Plastic and Reconstructive Surgery at the University of North Carolina-Chapel Hill, in a panel discussion here at the meeting of the Southern Section of the Triological Society. It's a tough call, he said, especially since the true margin of the lesion extends beyond the visible margin.
A Growing Problem
The incidence of lentigo maligna is rising, Dr. Shockley said. Lentigo maligna is the most common subtype of melanoma in situ. Progression of lentigo maligna leads to its invasive counterpart: lentigo maligna melanoma. Various studies have indicted that the lifetime risk for invasive melanoma arising from lentigo maligna ranges from 5% to 50%.
He said the problem with lentigo maligna is that if it is not treated properly, there is a high probability that it can recur-and it could recur as malignant melanoma. The question, he suggested, is to how wide and how deep the margins should be to make sure the excision of the lesion is complete.
Lentigo maligna was one of the concerns Dr. Shockley and other panel members discussed during the final presentation at the meeting, which offered a primer in how to deal with head and neck lesions and how to correct these conditions without disfiguring the patient.
Characteristics of Lentigo Maligna
Dr. Shockley described lentigo maligna as a slowly growing, asymmetrical macule, varying in color from brown to black with irregular borders, usually found on the face or neck. The distribution of lentigo maligna lesions on the face closely parallels that of actinic keratoses and squamous cell carcinoma.
It occurs to people with a general history of prolonged exposure to the sun, he said, occurring in older adults most frequently. The average age for a patient with lentigo maligna is 63 years. The flat, pigmented lesions are usually seen with they are between 1 and 3 cm in diameter.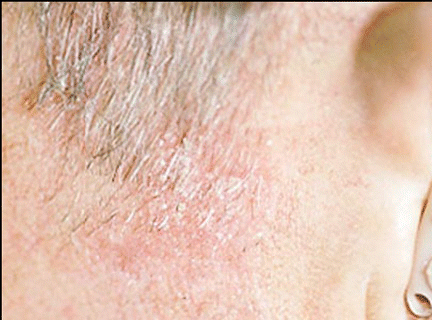 click for large version
Figure. The new wonder drug for actinic keratosis (pictured) is the topical 5% imiquimod cream.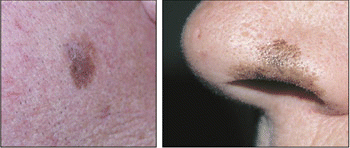 click for large version
Figure. If not treated properly, lentigo maligna (left) can recur as lentigo maligna melanoma (right).Stedman's (left) Goodheart's Photoguide of Common Skin Disorders, Lippincott Williams & Wilkins (right).
When confronted with lentigo maligna, most doctors opt for surgical excision, he said. At some centers, Mohs microscopic surgery is the therapy of choice, he said. Radiation is also selectively used, particularly in cases of large lesions, especially among older individuals. Dr. Shockley said other therapies for lentigo maligna include cryosurgery, laser ablation, electrodesiccation and curettage, and topical agents.
The surgery can also be controversial, he said. The National Institutes of Health and many cancer organizations recommend 5 mm margins for the excision of lentigo maligna. However, in various trials 6 mm excisions-depending upon stage-resulted in successful surgery in up to 75% of cases. Mohs surgeons, Dr. Shockley said, perform the excision with 8 mm to 13 mm margins.
He said his recommendation for surgery is the standard excision with the expectation of flap reconstructive surgery.
'Wonder Drug' Imiquimod
For patients with a more frequent type of lesion, actinic keratosis, Dr. Shockley said the new wonder drug is the topical 5% imiquimod cream (Aldara). He said that imiquimod upregulates the innate and acquired immune system through stimulation of toll-like receptors; it increases the synthesis and release of cytokine such as interferon-alpha, interleukins, and tumor necrosis factor-alpha. In turn, this activity activates natural killer cells, macrophages, and Langerhans cells, resulting in antiviral and antitumor activity.
The problem with lentigo maligna is that if it is not treated properly, there is a high probability that it can recur-and it could recur as malignant melanoma.
In addition to actinic keratosis, the cream has been Food and Drug Administration approved for superficial basal cell carcinoma and external and peri-anal warts. Dr. Shockley said that imiquimod has also been used by doctors as a treatment for lentigo maligna, with varying degrees of success. He noted that such use is off-label.
The patient opens a packet of the expensive cream-12 packets costs $170-and rubs the cream, containing 50 mg of imiquimod, into the lesion. Eight hours later the cream is washed off. The treatment's side effects are mainly related to the site of administration with erythema, irritation, itching, burning, and tenderness being the major adverse events. The use of the cream may also cause bleeding and infection at the site. Dr. Shockley said systemic symptoms such as fatigue, fever, and malaise are rare occurrences.
Patients who use this product report being moderately miserable, he said. The more reactions you get, the more likely you will get a cure.
Clinical Evidence
Dr. Shockley reviewed two clinical trials involving imiquimod. In one, imiquimod cleared actinic keratosis in 45% of patients compared to 3% of those using a vehicle cream. In that study, 436 patients used either placebo or imiquimod twice a week for 16 weeks. The overall reduction of lesions was 83% (J Am Acad Dermatol. 2004; 50: 714-721).
In the second study, 25 patients used imiquimod three times a week for 12 weeks, and actinic keratosis was cleared in 84% of the cases and another 8% achieved a 50% to 75% reduction in the size of the lesions (Arch Dermatol. 2002; 138: 1498-1502).
He also noted that when used against superficial basal cell carcinoma, patients who administered imiquimod cleared lesions clinically and histologically about 80% of the time when the drug was applied five or seven times a week (Br J Dermatol. 2005; 152: 939-947; J Am Acad Dermatol. 2004; 50, 722-733).
In a small pilot study, lentigo maligna lesions were cleared in all six patients who used imiquimod daily for six weeks. These patients had contraindications for surgery, Dr. Shockley said (Arch Dermatol. 2005; 141: 510-514).
Multiple off-label uses of imiquimod are being explored, he said. The early results are promising.
Biopsies Key for Tackling the 'New Epidemic'
Identifying these skin lesions-especially the ones that are potentially dangerous-depends upon actually performing biopsies. We have to lower our threshold for biopsies, said Stephen Park, MD, Professor and Vice Chairman of the Department of Otolaryngology-Head and Neck Surgery at the University of Virginia in Charlottesville.
He said that the number of cutaneous malignancies being seen is increasing about 3% a year, and is reaching near epidemic proportions. He said skin cancer occurs in one in four adults, and one in 75 is suffering from melanoma.
He advised the physicians that when it comes to skin cancer among their patients: Think of it, look for it, biopsy it, and treat it. He said doctors tend not to do biopsies because the procedure is time-consuming, costly, causes the patient pain, and can result in scarring, and the biopsies are most likely going to be negative.
He said that about 20% of the biopsies performed for suspected cutaneous lesions turn out to be positive-in the same ballpark as biopsies for prostate cancer, breast cancer, and colon cancer. We need to do more biopsies, he said.
Reconstruction: The Final Step of Treatment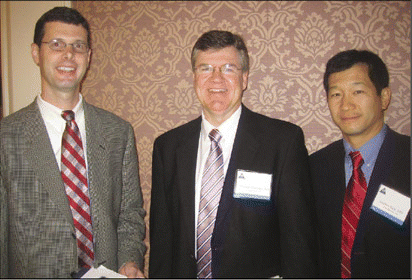 click for large version
Figure. Drs. Brian Jewett, William Shockley, and Stephen Park (left to right) discussed identifying and treating skin lesions on the head and neck at the Triological Society Southern Section meeting.
When those biopsies prove positive and major head and neck surgery has to be performed, the next job goes to facial plastic and reconstructive specialists such as Brian Jewett, MD, Assistant Professor of Facial Plastic and Reconstructive surgery at the University of Miami (Fla.), who illustrated how careful planning can turn disfiguring surgery into virtually normal appearances.
When you send patients off for Mohs surgery, Dr. Jewett said, you have to be prepared to handle complicated defects. He said that the key to restoring a person's image after major-league surgery is replacing the skin with the appropriate skin type. For example he noted that different parts of the nose have different types of skin and when the surgeon is finished removing the cancer, the restoration requires use of skin similar in thickness, contour, and color.
In addition, doctors have to be careful to evaluate surrounding structures so that the restoration of the defect does not distort surrounding tissue, he said.
He showed various before and after studies of patients, illustrating that no matter how extensive the surgery, the reconstruction can make the patient look almost as good as before any operations.
©2006 The Triological Society