But the measure's proponents said the Accountable Care Act of 2010 makes the truth in advertising bill more critical than ever. "The new health insurance law will open the door to millions of new patients to join the health care system," Rep. Scott stated in a news release. "This means that thousands of new health care professionals need to be trained annually to address the increased demand for services. Health consumers should be empowered to make decisions based on accurate information about their service provider."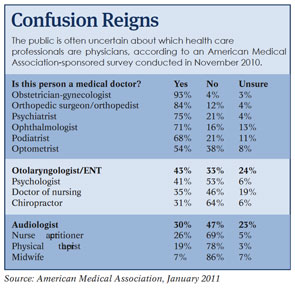 click for large version
Already, the federal government is the nation's biggest insurer, Dr. Imber noted. Once the reform law is in full effect, its broadened Medicaid eligibility provisions would mean that more people would be covered by the program. In addition, the Medicare population will burgeon as 76 million baby boomers age into the program. The first 2.5 million of this generation reach eligibility this year.
"When it's actually the federal budget that's involved, the federal government needs to know that the dollars are being spent in appropriate places," Dr. Imber said. "The services provided must be appropriate, delivered by the appropriate providers. Patients need to be assured that they are getting the best care by the best people, and the government needs to be assured that it is getting the best bang for the buck."
Lawmakers need to understand the differences between otolaryngologists and audiologists, Dr. Imber said. "Audiologists aren't trained—nor is it part of their scope of practice—to be involved in the diagnosis and management of otological disease." The truth and transparency legislation would help clarify the matter for everyone, he added.
The legislation specifies that it would not affect state laws regarding the scope of practice for the various non-physician providers. Many of the practitioners who have not traditionally earned advanced degrees are getting them now, noted AAO-HNS President J. Regan Thomas, MD. "Everybody should be proud of their degree and proud of that advanced training," he said. At the same time, "they should feel very comfortable making sure that everyone understands what their background is and what their area of expertise is."
Dr. Thomas heads the department of otolaryngology-head and neck surgery at the University of Illinois, Chicago, where all of the audiologists have doctorate degrees. The department's audiologists make their expertise clear to avoid confusion among patients, Dr. Thomas said.
The federal legislation, if passed, would build on similar laws adopted in a handful of states, including Arizona, California and Illinois. The Illinois law, passed in 2010, also requires health care professionals to wear name tags that identify their licenses, as does a similar Pennsylvania law. Despite some success at the state level, federal legislation is necessary because the confusion among patients is pervasive nationwide, Dr. Imber said.