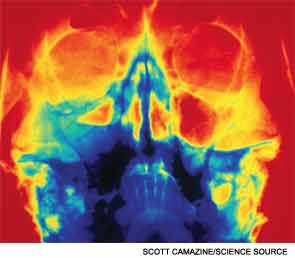 Color-enhanced X-ray depicting left maxillary
sinusitis
.
VANCOUVER—Immunomodulatory approaches are of growing importance in the treatment of chronic rhinosinusitis (CRS), said a panel of experts gathered here at the 2013 AAO-HNS Annual Meeting. Panelists covered a range of key points in this area, including the prevalence of immunodeficiency in CRS, the role of topical steroids, challenges involved in battling eosinophils and emerging immunomodulatory therapies in CRS.
Rakesh Chandra, MD, associate professor of otolaryngology-head and neck surgery at Northwestern University in Chicago, said anatomical adjustments don't get at the root cause of CRS. "These anatomic causes are really not the primary etiology for most chronic rhinosinusitis," he said. "And, when we do surgery, what we're doing is compensating for all of these other causes by making the anatomy bigger."
There is a strong link between immunodeficiency and CRS, he said. A French study of 252 patients with infections and common variable immunodeficiency (CVID) found that 36 percent of them had sinusitis (Clin Infect Dis. 2008;46:1547-1554). At Northwestern, 595 patients with CRS were screened, and 33 percent had some kind of immunodeficiency: 24 percent with specific antibody deficiency, 6 percent with common variable immunodeficiency, and 3 percent with IgA deficiency.
Treatment options for antibody deficiency include immune globulin replacement in CVID and the vaccine Prevnar. A drop in infections has also been found with the use of immune globulin treatment in patients with specific antibody deficiency, Dr. Chandra said.
As for surgery, a study of 22 ambulatory patients with immune dysfunction found that sinus surgery improved endoscopy scores and quality of life in those patients at a level similar to that achieved with controls (Am J Rhinol Allergy. 2010;24:230-233). "We can help these patients, but to really know about what's wrong with them, we need to have a lower threshold to screen them," Dr. Chandra said.
Topical Steroids
Topical steroids play an important role in treating CRS patients, but choosing the ideal strategy can be difficult, said Pete Batra, MD, associate professor of otolaryngology-head and neck surgery at the University of Texas Southwestern in Dallas. "Our goal in surgery is to create cavities that will allow optimal installation of topical therapies," he added. "The issue is, what do you use?"
The options range from standard topical nasal steroids, to off-label steroid drops, to nebulizers, and physician-directed treatments like drug-eluting stents, gels and injections. Standard nasal steroids have shown efficacy in symptom reduction and polyp scores (Cochrane Database Syst Rev. 2012;12:CD006549).
Drops can help with a variety of post-operative issues, most effectively when administered in the vertex-to-floor position, he said (Otolaryngol Head Neck Surg. 2005;133:735-740). But Dr. Batra cautioned that patients with cervical spine issues might not be able to tolerate certain positions for giving the drops.
A 2012 study involving 210 ethmoids in 105 patients who received the Propel stent found that the stents led to a 29 percent relative reduction in post-operative interventions, a 52 percent drop in lysis of adhesions; and a 45 percent relative reduction in frank polyposis (Otolaryngol Head Neck Surg. 2012;146:1004-1011).
Steroid-infused foam produced statistical improvement in the average patient in the Sino-Nasal Outcome Test and in endoscopy scores, according to a prospective study of eight patients and 10 treatments (Am J Rhinol Allergy. 2010;24:451-453), Dr. Batra said. Furthermore, a 2012 retrospective review found that mometasone gel led to a decrease in mucosal inflammation scores and an overall decrease in steroid use in 14 symptomatic post-ESS patients (J Otolaryngol Head Neck Surg. 2012;41:183-188).
Steroid injections, which come with a concern about blindness, might not be a viable choice, considering "the whole array of options that are now available to us," Dr. Batra said.
With all of these treatments, the long-term effects remain largely unknown. "You have to understand that the side effects of these topical off-label therapies are not well-understood," Dr. Batra said. "And often we're using these therapies six months or a year, or longer, at a time, and so we don't know what the unintended consequences are going to be down the road. That's a critical consideration. I think cost is also important. These things can be very expensive for patients, and that's going to be a barrier to further innovation."
Anti-Eosinophil Therapies
Alexander Chiu, MD, chief of otolaryngology-head and neck surgery at the University of Arizona in Tucson, said that anti-eosinophil therapies can play an important part in treating CRS patients. Approximately 4.3 percent of the population has bilateral polyps, and an abundance of tissue eosinophilia is seen in 80 percent of nasal polyps in Caucasian patients, he added.
There is an elevated level of IL-5 in patients with nasal polyps compared with controls, with the highest concentration found in aspirin-sensitive patients, Dr. Chiu said. He added that CRS patients with nasal polyps and eosinophilic inflammation have been found to have higher recurrence rates after surgery, at 82 percent over three years (Ann Otol Rhinol Laryngol. 2010;119:455-459).
The most advanced of anti-eosinophilic therapies is anti-IL-5, Dr. Chiu said. "There's been some major pharmaceutical investment in this over the past 10 years," he added.
A randomized controlled trial of mepolizumab, involving 362 asthmatics, found a reduction in serum and sputum eosoniphilia but no clinical improvement in the asthma-related objective parameters (Am J Respir Crit Care Med. 2007;176:1062-1071).
A 2011 study of reslizumab found significant improvement in Asthma Control Questionnaire scores compared with a placebo among asthmatics treated for three months, with significantly more improvement in asthmatics with polyps than those without (Am J Respir Crit Care Med. 2011;184:1125-1132).
In a 2006 study, 24 patients with massive nasal polyps received a single dose of reslizumab after a one-month washout and a two-month ban on steroid therapy post-treatment. There was at least one adverse event in 23 of the 24 patients, 14 of whom had upper respiratory infections. There was significantly reduced blood eosinophilia compared with a placebo 12 hours after treatment but a severe rebound 24 weeks later. (J Allergy Clin Immunol. 2006;118:1133-1141).
There were also significantly reduced nasal secretions of eosinophilic cationic protein and IL-5. Additionally, 50 percent of the patients with polyps had a decrease in polyp scores; the responders were those who had increased IL-5 levels in nasal secretions before treatment.
In a 2011 double-blind, placebo-controlled trial of mepolizumab for nasal polyps, 30 patients with severe nasal polyps got two single doses of the drug 28 days apart. The treatment was well tolerated, but the patients experienced side effects, and there was a significant reduction in just 12 of the 20 patients on nasal polyp score. But, as in the reslizumab study, there was no rebound of eosinophilia seen.
Dr. Chiu said that although the treatments show signs of promise, the question of who to treat is still unclear. "It may be the wave of the future if we can actually predict which patients are going to respond," he added.
Leukotriene Inhibitors
Eric Holbrook, MD, assistant professor of otology and laryngology at Harvard Medical School and a physician at the Massachusetts Eye and Ear Infirmary, reviewed the sparse literature that exists on leukotriene inhibitors. Montelukast, pranlukast and zafirlukast, which are cysteinyl-leukotriene type I receptor inhibitors, are indicated for chronic treatment of asthma and allergic rhinitis but come with a warning about neuropsychiatric events. Zileuton inhibits 5-lipoxygenase, an enzyme that catalyzes leukotrienes from arachidonic acid. It's indicated for treatment of chronic asthma and comes with warnings about hepatotoxicity and neuropsychiatric events.
"Leukotriene inhibitors for chronic rhinosinusitis tend to show improvement in use, although the [studies] really are mostly lacking in proper design and significant numbers to be powered to prove significance," Dr. Holbrook said.
An anti-IgE antibody, omalizumab, inhibits binding of IgE to the receptor on mast cells and basophils. "There are few good studies, and the subject numbers were all pretty small," Dr. Holbrook said. "So, there are mixed results."
He emphasized the need for subtyping the disease. "For now, we're kind of throwing things at them when we've used up and exhausted all our conventional therapies," he said. "Hopefully, we can narrow that [selection criteria] down in the future."