Maureen Hannley, PhD, is currently Chief of the Research Division of the Department of Otolaryngology and Communication Sciences at Medical College of Wisconsin and Research Consultant for the Triological Society. She formerly served as the Chief Research Officer of the American Academy of Otolaryngology-Head and Neck Surgery Foundation and has held positions at the National Institutes of Health, Stanford University Medical School, and Arizona State University.
In the past, almost all support for otolaryngology research was provided through the National Institute on Deafness and other Communication Disorders (NIDCD) or its parent institute, the National Institute on Neurological Diseases and Stroke (NINDS). While it is true that the NIDCD still supports more than 60% of the research projects, primarily those related to auditory or vestibular research, physician-scientists conducting research related to head and neck cancer are now supported by the National Cancer Institute (NCI) and the National Institute for Dental and Craniofacial Research (NIDCR). Other investigators have found support in the National Heart, Lung, and Blood Institute (NHLBI), National Institute for Child Health and Human Development (NICHD), National Institute of Allergy and Infectious Diseases (NIAID), National Center for Complementary and Alternative Medicine (NCCAM), and the newest institute, the National Institute for Biomedical Imaging and Bioengineering (NIBIB) (see Figure 1). The NIBIB has expressed strong interest in supporting projects related to biotechnology, such as image-guided surgery, tissue engineering, and robotic surgery.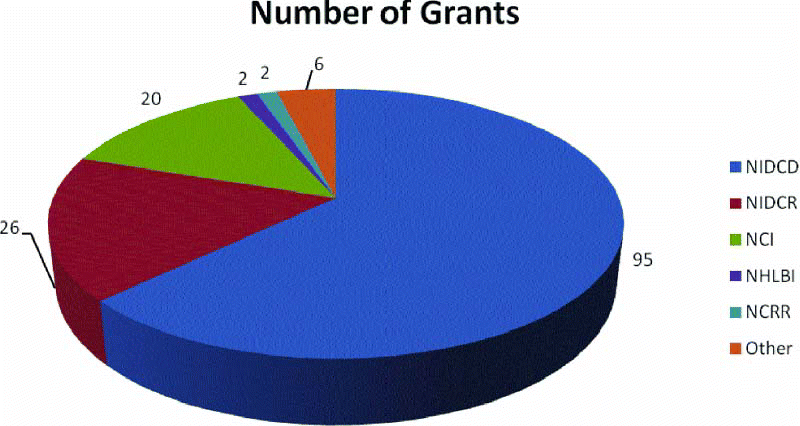 click for large version
Figure 1. Institute Support for Otolaryngology-Head and Neck Surgery Research Projects
Funding Opportunities
Otolaryngologists-head and neck surgeons with the interest and motivation to include research as a part of their careers often overlook prime funding opportunities that may offer just the right impetus to move from an idea to a fully formed research proposal. All NIH institutes publish Program Announcements (PAs) on a regular basis, indicating their desire to support more research in certain programmatic areas that they consider to have high priority or to be underrepresented in their grant portfolio. Responding to one of these PAs gives the applicant a small advantage over other applications that are completely investigator-initiated, in that if the review has yielded a borderline percentile score, the application may be considered for funding by the institute on the basis of its high program relevance.
Table 1 presents just several of the currently active PAs that would offer research opportunities to otolaryngologists-head and neck surgeons. Some clearly require bench skills; others would assume interest and skills with clinical research. To view the full range of PAs for all institutes, and to read, and download the full text of PAs of interest, including contact information, go to http://grants1.nih.gov/grants/guide/search_results.htm?year=active&scope=pa .