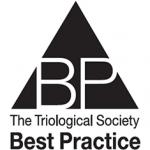 TRIO Best Practice articles are brief, structured reviews designed to provide the busy clinician with a handy outline and reference for day-to-day clinical decision making. The ENTtoday summaries below include the Background and Best Practice sections of the original article. To view the complete Laryngoscope articles free of charge, visit Laryngoscope.
Background
Cystic fibrosis (CF) is an autosomal recessive disorder caused by a genetic mutation in the gene that encodes the cystic fibrosis transmembrane conductance regulator (CFTR) protein. There are numerous known mutations of the CFTR gene, with ΔF508 being the most common. A defect in the CFTR gene leads to impaired ion transport across cell membranes and results in tenacious secretions that cause significant aerodigestive morbidity. As a result of pulmonary injury, CF is the most common indication for pediatric lung transplantation in the U.S. The paranasal sinuses are thought to be an upper airway bacterial reservoir of infection that can spread to the lower airway and cause lung allograft infection. Poor transplant outcomes are associated with bacterial colonization and infection. The purpose of this review is to evaluate the most recent evidence regarding the role of endoscopic sinus surgery (ESS) following lung transplantation in patients with CF.
Best Practice
Based on the current literature, there is evidence to suggest a beneficial role of ESS post lung transplantation in CF patients with and without nasal polyposis. Extensive ESS following transplantation aimed at eradicating paranasal sinus colonization may decrease lung allograft infection and thereby improve survival. CF patients may be too unhealthy to consider extensive ESS prior to transplantation.
The literature regarding post-transplantation outcomes may be biased as they are limited to a single institution's retrospective experience. It would be useful if other high-volume lung transplant groups published their experiences with ESS in relation to CF lung transplantation