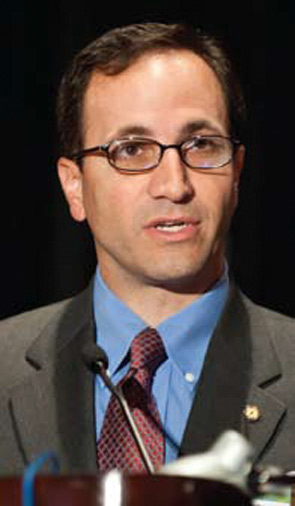 Robert Ferris, MD, PhD, FACS.
CHICAGO — Quantitative real-time polymerase chain reaction (Q-PCR) can be a valuable tool in the operating room to determine whether head and neck cancer patients should go on to elective neck dissection, researchers said here on April 29 at the Annual Meeting of the Triological Society, held as part of the Combined Otolaryngology Spring Meetings.
The technique can be used to determine, in about half an hour and with high specificity, which sentinel lymph nodes are positive, so that patients who are candidates for elective neck dissection can have the procedure done at the time of the initial operating room visit without having to come back.
Searching for Markers
"What we need is a fast and accurate technique because we don't want to take the patient back, when final pathology comes out some days later, for a second surgery," said Robert Ferris, MD, PhD, FACS, chief of head and neck surgery at the University of Pittsburgh Medical Center, whose study won the Society's Mosher Award. "This adds … costs [and] there's a technical difficulty to go back into an operated field and, of course, mental anguish on the part of the patient and the surgeon. We thought molecular technique such as quantitative PCR would be appealing if it could be rapid and accurate."
Sentinel lymph node biopsy has a 95 percent negative predictive value, which is generally considered acceptable. But intraoperative pathology sensitivity has only 60 percent sensitivity, which is "insufficient," Dr. Ferris said.
Out of 100 cases of oral squamous cell carcinoma, 30 can generally be expected to warrant elective neck dissection. But with intraoperative pathology, only 18 would be detected, meaning that 12 patients would leave but would have to come back for dissection.
With Q-PCR, in which a laser is used to excite a fluorophore with a logarithmic relationship to the amplification of tumor DNA, the results can be much better, Dr. Ferris said.
"What we really needed were markers," he said.
Researchers looked at 40 genes found in published papers to be expressed and overexpressed in oral carcinoma and then did a secondary screen for the six most promising ones. Then they went on to validate these in the 35-minute procedure using the GeneXpert System.
Dr. Ferris said the nodes were analyzed separately through pathology "so that no PCR results would be without pathologic confirmation for the presence of diseased metastatic tumor."