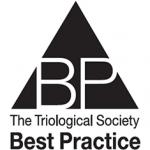 TRIO Best Practice articles are brief, structured reviews designed to provide the busy clinician with a handy outline and reference for day-to-day clinical decision making. The ENTtoday summaries below include the Background and Best Practice sections of the original article. To view the complete Laryngoscope articles free of charge, visit Laryngoscope.
Background
Chronic rhinosinusitis (CRS) is an inflammatory disease affecting the nasal cavity and paranasal sinus mucosa. Corticosteroids are commonly used for CRS medical management in various formulations, including oral steroids and nasal sprays. In recent years, concentrated budesonide respules added to high-volume saline irrigations have also been adopted in the treatment of CRS patients. The dosing of budesonide used in these concentrated irrigations ranges from 0.25 mg to 2 mg per 240 mL saline irrigation, compared to 64 μg to 400 μg per spray in budesonide nasal spray formulations. However, very little high-volume budesonide irrigation is retained in the sinuses. The concern for increased systemic steroid absorption and associated side effects remains an active area of investigation. Given the increasing adoption of this off-label usage and the higher doses of budesonide used, it is important to examine the safety profile of topical high-volume budesonide irrigation.
Best Practice
The use of topical high-volume budesonide irrigation does not appear to have a significant effect on IOP and carries a low risk of HPA axis suppression when used long term. Patients who experience HPA axis suppression may be asymptomatic, but may benefit from the supervision of an endocrinologist. Simultaneous use of multiple additional topical steroid formulations appears to be a risk factor for HPA axis suppression. Larger prospective studies are needed to determine the effect of long-term topical high-volume budesonide irrigation on the HPA axis. Furthermore, additional studies in CRS patients without nasal polyposis would be worthwhile, as the majority of patients studied in the above articles had CRSwNP. Lastly, risk factors for HPA axis suppression, such as concomitant use of other steroid formulations, should be further explored (Laryngoscope. 2018;128:781–782).