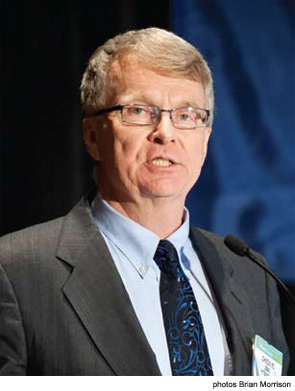 Jonas Johnson, MD.
CHICAGO — Chemoradiation therapy (CRT) for head and neck cancer is overused at some centers in patients with early-stage laryngeal cancer, and more care should be taken not to overtreat patients with therapy that can have toxic effects, said invited lecturer Jonas Johnson, MD, at the Annual Meeting of the Triological Society, held here on April 29 as part of the Combined Otolaryngology Spring Meetings.
There has been such a rush to use the therapy that Dr. Johnson, professor and chair of otolaryngology at the University of Pittsburgh School of Medicine, called the last decade "the era of chemoradiation."
Findings from 1991's landmark Department of Veterans Affairs Laryngeal Cancer Study Group (N Engl J Med. 324(24):1685-1690) showed that it is possible in patients with limited laryngeal cancer to save 60 percent of the organs without surgery using CRT, but such findings may have given rise to excessive use, Dr. Johnson said.
| | |

Next →

|
Single Page