Often, patients make tough choices in the privacy of their homes. One study found that 18 percent of surveyed chronically ill adults had at least one episode of cost-related medication underuse in a year. A full 20 percent of patients with asthma reported under-using their asthma meds to save money; 18 percent of patients with heartburn cut back on their reflux meds (Am J Public Health. 2004;94(10):1782-1787).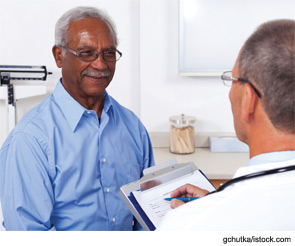 Dr. Johnson recommends talking to patients about whether or not they are filling their prescriptions.
How to Help
Despite the obstacles, otolaryngologists nationwide are stepping up to care for un- and underinsured patients. These tips can help you improve care for your insurance-challenged patients:
Talk about it. "Many physicians have a 'don't ask, don't tell' policy in terms of whether or not their patients are filling their medications or can afford to fill them, said Lane Johnson, MD, author of The Care of the Uninsured in America (Springer, 2009). "Don't put your head in the sand. Really ask a patient whether he thinks he'll be able to afford the medication."
Use samples judiciously. Sample medications can be used to get patients through an acute crisis, such as a sinus infection, said Dr. Robert DeFatta. Sample medications may also be "useful when we're trying to initiate therapy," Dr. Patel said. "They essentially provide a low-cost or no-cost approach to try something and confirm that it works." The problem, though, is that many patients won't be able to afford the medication when they run out of samples, leading to a possible gap in treatment.
Connect patients with pharmaceutical company patient support programs. If you often prescribe expensive medications that are not well covered by insurance, find out what kind of help is available from the pharmaceutical company. "Most pharmaceutical companies have patient support programs," Dr. Johnson said. "If the patient is willing to fill out the forms, usually about nine to ten pages worth of them, and you send them in on their behalf, they can get medications for free." (For more information, see "Free & Reduced Fee Medications.")
Provide evidence. Both Dr. Rima and Dr. Robert DeFatta have had some success securing insurance coverage for certain medications or procedures by sending additional documentation to insurance companies, including journal articles that demonstrate the validity of their choices.
Talk to local pharmacies. Many will be willing to establish some kind of discount or payment program for un- and underinsured patients. Encourage patients to shop around also. A lot of price variety can be found in the same town.
Improve patients' insurance status. "We see many patients who are uninsured but who might actually be eligible for Medicaid or public aid," Dr. Patel said, noting that unfamiliarity with the English language or medical system may keep patients from independently obtaining insurance. Refer un- or underinsured patients to hospital social workers or community agencies who can connect them with benefits. One study found that enrolling eligible children in New York's State Children's Health Insurance Program (SCHIP) drastically improved asthma care; the percent of unmet health needs dropped from 48 percent to 21 percent, and hospitalizations decreased from 11 percent to 3 percent (Pediatrics. 2006;117(2):486-496).
Know what's available in your community. What kinds of free clinics, health screenings and faith-based clinics are in your community? Seek out the resources around you, and compile a list to present to your patients. Look for federally funded healthcare centers (search via zip code at findahealthcenter.hrsa.gov) and community and migrant health centers (ncfh.org). Reach out to your county's public health department to see what services are available. Call your local houses of worship. Do any offer free- or reduced-price health care in partnership with local hospitals or clinics?
Consider discounting your fees. "I think that all physicians have a responsibility to provide some care to patients who wouldn't otherwise be able to afford it," Dr. Johnson said. Consider partnering with a free clinic to see X number of patients per month, gratis, or set up a sliding scale at your office. You might also want to offer an installment plan that is "affordable and transparent," Dr. Patel said.
Advocate for the care of un- and underinsured patients. Ask your hospital to consider covering a certain number of surgical procedures per month. "Tell them, 'Let's figure out how we can work this out so the patient can get what they need,'" Dr. Johnson said. "That coming from a specialist parlays a lot more weight than it does coming from a social worker or outside agency."
Dr. Johnson said he knows of a few situations in which this approach has worked and noted that most hospitals have charity care policies.