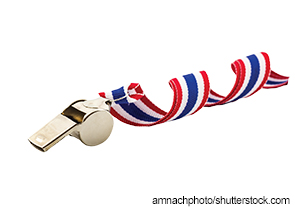 In April, when the Centers for Medicare and Medicaid Services (CMS) released a massive amount of data pertaining to how much physicians are paid through Medicare, otolaryngologists at Albany ENT & Allergy Services in New York discussed the process and its implications, including the attention focused on an ophthalmologist in Florida who had been paid $21 million in 2012. The practice also reviewed its own Medicare payment data, and neither the group nor any of its seven physicians was an outlier.
But since then, there has been little discussion of the data release, said Gavin Setzen, MD, president of the Albany practice and president of the New York State Society of Otolaryngology. "I think, to an extent, the focus and attention has subsided," he said. Neither his otolaryngology colleagues nor patients of his practice have brought up the topic of Medicare payments very much since then, he said.
But even though transparency is, as they say, "a good thing," otolaryngologists still wonder about the potential effects of the release of that enormous database and are hoping CMS refines the information to make it more useful. The American Medical Association (AMA) is pushing for CMS to give physicians a way to respond to—and potentially correct—information in the data set.
The April data release included numbers on Medicare payments to 880,000 physicians, broken down by payment type. The release came after court battles and resistance from the AMA and others. In 2013, the courts vacated an injunction in place since 1979 that blocked release of Medicare payment information to individual physicians. In response, CMS created a new policy on Freedom of Information Act requests, and the release of the Medicare payment information is a result of that new policy.
CMS spokesperson Rachel Maisler, in response to e-mailed questions, issued a statement she said was "generally attributable" to CMS. "This data is useful for consumers and other stakeholders because it sheds light on the Medicare fee-for-service portion of a physician or other healthcare professional's practice," her statement read. "The data includes information on the types of services paid under Medicare as well as the average Medicare payment for those services."
Asked whether the release of the data has helped pinpoint suspected cases of fraud, Maisler didn't respond directly but said the U.S. government "recovered a record $4.3 billion in taxpayer funds last year on behalf of our federal health programs," helped by new tools created by the Affordable Care Act.
Potential for Misinterpretation
Richard Waguespack, MD, president of the American Academy of Otolaryngology-Head and Neck Surgery, said that without context, it is very easy to misinterpret the data. About a year ago, he moved from private practice to a university, a change that appeared to skew his Medicare numbers. "It looked to me like the numbers being reported on me were low," he said. "Because I was not able to submit charges during a transition period to the university, there might be an appearance that I got less money. I could see a situation where the converse might be true, when those charges that were 'on hold' got released. It would just be difficult for the public to judge what's actually going on."
The most common scenario, he said, is a practice that treats a largely elderly patient pool, which would show those physicians receiving higher payments than their colleagues in practices with more non-Medicare patients.
Jonas Johnson, MD, the Dr. Eugene N. Myers Professor and Chair of Otolaryngology at the University of Pittsburgh School of Medicine, said, "This has been coming and will certainly offer the potential for misinterpretation of the data. Physicians at the high end may just work longer or see a larger proportion of CMS patients. So, until quality data is available, I expect the numbers will be hard to interpret." Dr. Johnson, who is also past-president of the Triological Society, made the remarks on his own and not as a voice for the society.
Dr. Waguespack said he has heard "virtually nothing" from patients beyond the few days after the data was released in April amid intense media coverage. "I think as a specialty, we don't appear to have a number of people who really appear to be outliers as far as what their Medicare receipts are," he said.
But even though chatter about the data release has subsided, there still will be physicians who could be affected by the Medicare data, rightfully or not, Dr. Waguespack said. "There almost assuredly will be, even if it's, for example, a practice that is limiting itself largely to geriatrics," he said. "I think there will probably, as always, be a few individuals who have an appearance of, and in some cases potentially are, overutilizing services. But without knowing a lot more details about a practitioner's patients and their disease burden, it's very difficult to make any definitive statement."
Robert Wah, MD, president of the AMA, said physicians have expressed concerns about the accuracy and limitations of the data. In some cases, he said, a physician who manages a group or practice may appear to be an outlier because a group of physicians bill under that physician's identifier.
Also, he said, many physicians have told the AMA that because the CMS payment data includes reimbursement for expensive drugs, they have been unfairly portrayed as receiving significant revenue, even though the money was passed through to drug companies to pay for the cost of those drugs. The AMA has urged CMS to separate out those payments, Dr. Wah said.
How Useful Is the Data?
Otolaryngologists and other physicians whose patients ask about the payment data should emphasize that patients need to consider the quality of their care. "They should stress to their patients that the financial data released is misleading and does not capture what is really important: the quality of the care they are receiving that is helping them live healthier lives," Dr. Wah said.
CMS, in the statement issued by Maisler, said the agency provides more than just data on quantity of payments. It noted that CMS has just started releasing quality data on physicians through the Physician Compare website (medicare.gov/physiciancompare). The agency also pointed to the Qualified Entity program, in which approved organizations have access to Medicare data in order to combine it with other claims data, allowing them to develop performance reports on individual providers. "While utilization data is a valuable resource for stakeholders, quality information is also important," the CMS statement said.
In addition to concerns that the information might be misleading—even posing a potential disservice to patients—physician groups also say the data release might represent a missed opportunity. "Due to its non-user-friendly format, lack of contextual information, and serious limitations, the data are not helpful for patients or physicians," Dr. Wah said. "It would have been a better use of time and resources for CMS to provide timely, actionable data that would have a positive impact on care delivery in this country by helping patients and physicians make healthcare decisions that lead to high quality, cost-effective care."
Dr. Setzen has a similar opinion. His concerns about the data release are "not to say that transparency, accuracy, and this kind of data should not be sought or available. I mean, that's important. And if the context is appropriate and if the physician has potentially had an opportunity to review the data, comment, and correct it, when necessary, prior to the release, I think that would give a little bit of additional comfort to the physician and larger medical community."
It would have been a better use of time and resources for CMS to provide timely, actionable data that would have a positive impact on care delivery in this country by helping patients and physicians make healthcare decisions that lead to high quality, cost-effective care.
—Robert Wah, MD
But even ascertaining the accuracy and validity of the data would be a sizable job, Dr. Setzen said, involving specialists who might need significant time and resources to properly review everything. With no avenue for data correction currently available, it might not be worthwhile, he said. "I think it would be a significant burden that would [require] significant resources to do that, in addition to complying with a myriad of other regulatory mandates like meaningful use and ICD-10 implementation," he added. "One has to be able to justify that."
He worries that the data release might strain relationships between patients and their physicians due to misconceptions in the absence of meaningful context for review of the data. "One of the benefits of transparency, assuming the data is accurate and meaningful, is that it might be an opportunity for one to change practice patterns [and] review one's billing practices, etc.," he said. "But, in my opinion, the goal of all of this should be improving patient care, and it should be a physician-patient process. Unfortunately, many of these things serve to pit the physician against the patient"—a dynamic, he said, "that has declined in the last decade."
If the topic of Medicare payments were to come up during a patient visit, particularly related to treatments that patient is receiving, Dr. Waguespack said he hopes the doctor would be able to discuss medical necessity and appropriateness in the context of those treatments. But new demands to lower costs tug against demands to improve documentation and enhance patient relations, he said.
"It's sometimes hard to find the right balance," Dr. Waguespack said. "But that communication is the underpinning of every doctor-patient relationship."
---
Thomas Collins is a freelance medical writer based in Florida.