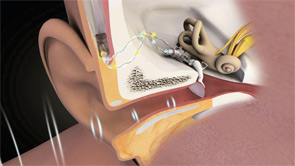 An image of the Esteem hearing implant. The sound processor is implanted behind the ear.
For decades, otolaryngologists have been frustrated by the refusal of some patients with hearing loss to use hearing aids. Statistics on noncompliance vary, but there is general agreement that only about 20 percent to 25 percent of Americans with treatable hearing loss use hearing aids (Hear Rev. 2009;16(11):12-31). The problem seems to be more acute for people with mild hearing loss: A consumer survey conducted by the nonprofit Better Hearing Institute in 2009 found that fewer than 10 percent of people with mild hearing loss use amplification and that even among people with moderate-to-severe hearing loss, only four in 10 use amplification (Hear Rev. 2010;17(6):12,14-16).
Non-users offer many reasons for going unaided, including the high cost of hearing aids, the inconvenience of wearing them, the fear of seeming old, and negative reports from friends and family who have tried them. But an emerging category of hearing devices, middle ear implants (MEIs), may offer a solution to the noncompliance problem, experts say.
"If you have a patient whose hearing is not bad enough for a cochlear implant but who is really dissatisfied with hearing aids, that is a niche for implantable devices," said Moisés A. Arriaga, MD, MBA, FACS, who has participated in clinical trials of several models of MEIs. Dr. Arriaga is professor of otolaryngology and neurosurgery at Louisiana State University and director of Our Lady of the Lake Hearing and Balance Center in Baton Rouge, La.