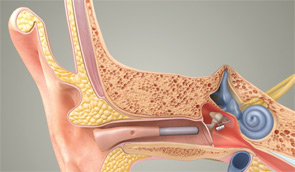 An image of the MAXUM hearing implant, which uses a speaker to amplify sound.
Michael Spearman, CEO of Houston-based product developer Ototronix, cited issues that may drive people with more severe losses to consider switching from conventional hearing aids with acoustic speakers to middle ear devices like his company's Maxum System. Because of their degree of hearing loss, he explained, these patients need more amplification, especially in the high frequencies, than those with milder losses. Their more powerful hearing aids need to be fitted with custom earmolds, which occlude the ear canal. The resulting occlusion effect often causes wearers to complain about the unnatural quality of the amplified sound, especially for their own voices.
Many of these patients also complain of feedback, which can occur when amplified sound leaks back into the ear canal through the hearing aid vent and is re-amplified. The squawking and whistling of hearing aid feedback is annoying both to wearers and to those around them. Also, stopping feedback may require reducing the amount of amplification, which can leave wearers with less sound than they need.
Obstacles
In view of favorable reports from MEI users, why are only a few thousand of these devices in use worldwide? One reason could be that until recently, only the Vibrant Soundbridge, which was approved by the FDA for adults in 2001, was available in this country. The cost and the need for surgery could be other reasons.
Cost and the nature of the implant surgery differ greatly among the various brands. On the low end of the price range is the Maxum, which Ototronix CEO Spearman said typically costs about $9,000 for both the device and the implantation procedure. The company designed the implant to make the surgery "minimally invasive," he said. It takes about 30 minutes and can be done transcanal under a local anesthetic in the procedure room of a medical office. As with all MEIs, the surgery is performed by an otologist, but, said Spearman, little special training is required.

Because of the direct movement of the ossicular chain, you don't have the feedback issues, which is one of the key benefits over hearing aids.
—J. Douglas Green Jr., MD, FACS
On the other end of the spectrum is the Esteem, which costs $30,000 and takes about 2.5 to three hours to implant, according to Geisz. He added that otologists must undergo an intensive training program before being permitted to do the surgery.